---
Homemade toys for dogs made from plastic bottles are loud, free and great fun for dogs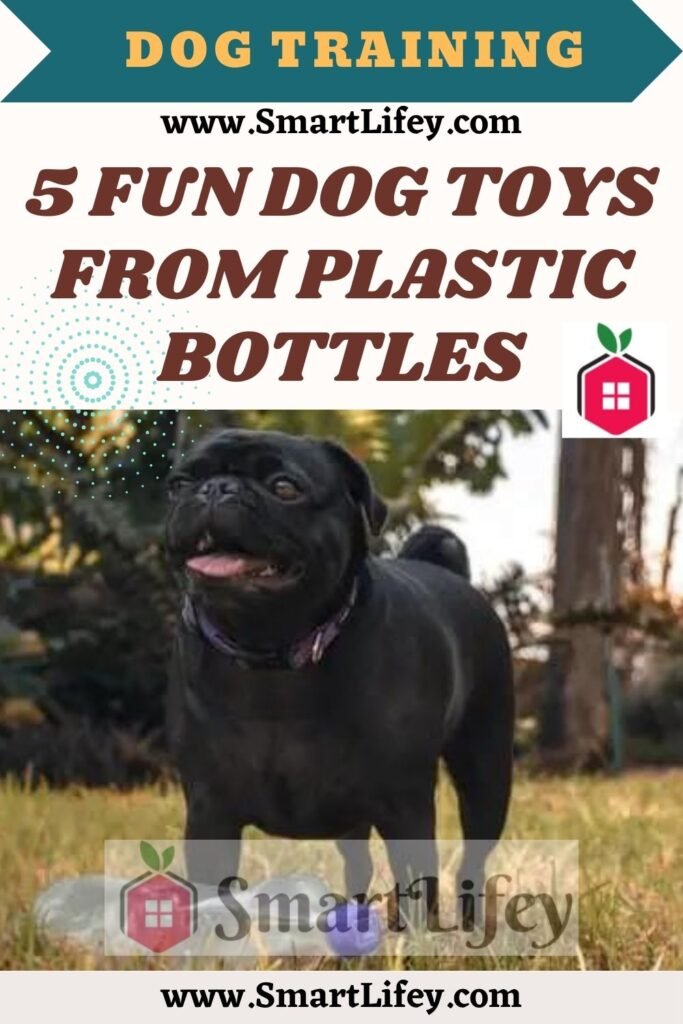 The dogs need play and also enjoy new toys regularly. The unpublished dog dolls stimulate their intelligence and will also make them happy. For this reason, homemade dog toys with plastic bottles are a fun alternative that, in addition, does not require spending money to make them. Any ideas? Make a canine toy out of a plastic bottle in a sock, create a stimulating treat dispenser, or transform an old stuffed animal into a cool, high-sounding canine doll.
---
Dog toys with plastic bottles!
Dogs need and enjoy new toys. However, to achieve this it is not always necessary to invest money: dolls for dogs can be made at home, simply and with very good results. But before we get down to work, it is advisable to take into account some precautions. For the manufacture of homemade toys for pets, some important things must be taken into account, such as the personality of the animal and the materials that we will use.
Dog toys made from plastic bottles entertain the dog while stimulating his mind
What, then, are the most recommended materials to build toys for dogs? Yes, you have to be very careful so that the bottle cap cannot come loose, as a large animal could ingest it and cause a serious intestinal obstruction.
Here are five safe dog toys made from plastic bottles .
1. Dog toy with bottle inside a t-shirt
A fun proposal to make toys for dogs with plastic bottles is to line the containers with different fabrics or disused shirts (yes, washed). But it is important to remember that the safety of the doll for our furry companion must come first. When you use a cloth cover for the bottle, you have to make sure that it does not break easily. The canvas is a good material to make bags or to line bottles, and these types of toys are highly recommended, as long as they are ensure the physical well-being of the pet.
Dogs will enjoy nibbling on this toy or catching it in the air during their play with their two-legged friend. How to make it even more attractive? It is possible to put some small balls inside the bottle before closing the lid forcefully: in this way, the canine toy will be louder.
2. Dog toy: bottle in sock
Another very simple idea to make a toy for dogs is to put a plastic bottle inside a sock and tie both ends, so that the container is fixed.
A variant of this toy is to leave enough sock fabric behind both knots and trim some fringes. In this way, the biting space increases.
It is important that the sock is clean, to prevent the dog from confusing our clothes with his toys. The result is a pleasant and, above all, very loud toy for dogs, and without spending a single euro!
3. Sound soft toy with bottle for the sweetest dogs
This idea to make a toy for dogs with a plastic bottle is, in addition to fun, very sweet. It consists of taking advantage of an old stuffed animal that is around the house, clean and without removable small parts , to make it safe.
The procedure to build this cuddly canine doll is, again, very simple. All you have to do is choose an elongated stuffed animal and cut a hole inside. To achieve this, a small part of the plush will have to be unstitched and some of the stuffing removed. You just need to put the bottle inside and sew carefully again. Every time my furry friend plays or chews on his stuffed animal, it will make a fun rattle!
4. Dog toy with bottle, that feeds!
A plastic bottle with holes can make an attractive interactive toy for dogs. How? Transforming it into a food dispenser for the dog .
Dog toys called pipolinos rotate while releasing food. In the market it is possible to find them for about 30 dollar. But why not build them at home, at no cost? The Canes cool blog explains how to make these dog toys with reused plastic bottles and other packaging.
Get a plastic bottle with a cap, like a soda bottle. With the help of a cutter or sharp scissors, several holes are made throughout the container. The next step is important: you have to clean the bottle under the tap of cold, abundant water, in order to remove any plastic remains. The container is filled with pellets of feed or homemade dog biscuits , and the lid is closed . The food will come out as the dog hits or pushes it. A great incentive to keep your brain in shape!
5. Make a "tug a jug" toy for dogs
The interactive toys tug a jug for dogs are also food dispensers, which allow pitches and play the "tug of war" with our furry companions. Its price in the market is around 20 euros. So why not make it at home?
The procedure to build this homemade toy for dogs with a plastic bottle is explained by the blog Tattle Tails. The materials needed are as follows: a plastic bottle with a sturdy cap , capable of withstanding the dog's playful bites, a strong rope, and a sharp cutter or scissors .
How to make the tug a jug ? First you have to pierce the cap with the cutter. Then tie two knots in the rope, one at each end, and insert one of the ends into the bottle. Important: before covering, you need to pass the other line through the hole created in the deck, so that the knot is outside the boat. Close up and have fun furry friends!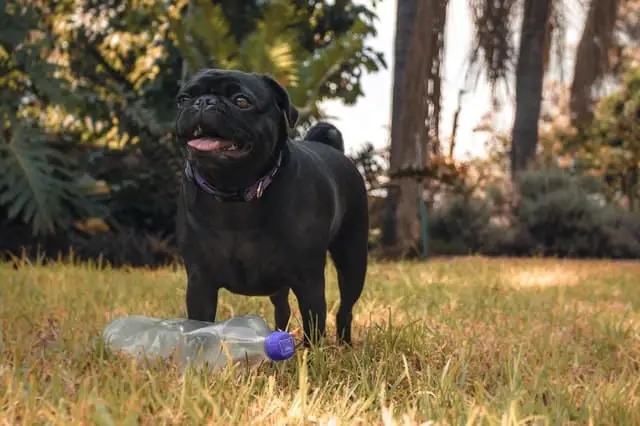 ---