---
Dog biscuits, like homemade dog biscuits or cat biscuits, are a tasty treat for your pet. And, as they are made at home, you can choose the ingredients and their quality, which allows you to avoid compounds that can cause allergies to the dog, as well as artificial additives or preservatives that are not recommended. These are two cakes recipes for the dog (the classic and liver) and some tips before getting down to business.
---
Basic dog cake recipe
The peanut butter and meat cakes serve to reward the dog, plus they are easy and cheap to make at home
Looking for a recipe that is healthy for your dog and that you can share with him? Well, this basic cake has these two characteristics and is very easy, cheap and quick to make.
Since this cake contains peanut butter, a star ingredient to make canine treats, you have to be very careful and choose a cream that does not contain xylitol, a very dangerous ingredient for dogs and cats and present in many sweets and candies for humans (yes safe for you but not your pet). Do not forget, therefore, to check the label carefully to choose a peanut butter free of this compound.
The ingredients to make this cake for your dog and for you are:
Egg.
65 grams of cream or creamy peanut butter. Remember: it should not contain xylitol.
60 milliliters of olive oil.
One teaspoon of vanilla extract.
60 grams of honey (that is liquid).
135 grams of grated carrots.
A pureed apple. Cook it before, with little water and over low heat. Peel it and remove the heart and seeds well. Although the apple is one of the fruits that the dog can eat, its seeds are somewhat toxic.
120 grams of whole wheat flour (or white, in case the dog is intolerant).
A little yeast.
One teaspoon of baking soda for pastry.
To make this cake, the first step is to preheat the oven, to about 180 ºC. Grease a cake mould that you can put in this appliance.
Mix the egg, peanut butter, oil, vanilla, and honey in a large bowl, and beat well, until smooth. Include the carrot and applesauce, and mix well. Now you can add the flour, yeast and baking soda. Stir and beat everything well before pouring the mixture into the container or cake mould.
Time to put it in the oven! Let it cook at a low temperature for about 40 minutes and, when done, take it out and let it cool for at least another 10 minutes. The best thing is then to pass it to a rack that allows the cake to air and cool evenly.
If you want to pamper your best friend even more, you can spread the top of the cake with peanut butter (remember, no xylitol). Your pet will lick!
Liver sponge cake: recipe for dogs
If you want a homemade recipe with which to reward your dog, sign up for this liver sponge cake. Your furry friend will love it. But remember to give it only small servings and use it only as a supplement to your regular diet.
The ingredients to prepare the liver cake for dogs are simple.
500 grams of lamb liver.
500 grams of whole wheat flour (or white, in case of intolerance).
Yeast.
Three eggs.
Water or milk Watch out! Some dogs suffer gastric problems with milk. When in doubt, use water.
The method to make this cake is not very different from what we would follow in the case of making a similar dessert for humans.
The first thing is to break the eggs into a measuring bowl, pour the same amount of water or milk and beat everything very well. On the other hand, mash the meat in a powerful mixer or mixer and add the eggs, flour and yeast to the mixture. Now you have to beat all the dough well until you get a consistent and fluffy mixture.
Pour everything into a greased bowl -this will prevent the cake from sticking- that withstands high temperatures and place it in a preheated oven (about 10 minutes before) at about 180 ºC for between 35 and 45 minutes.
Once the cake can be poked with a pin and it comes out clean, you will know that it is ready. Let it cool and divide the mixture into a dozen pieces. Ready to offer them to the dog! Remember to dose and not give more than one serving. The rest can be stored in the refrigerator in an airtight pan.
---
Keys to making homemade dog cakes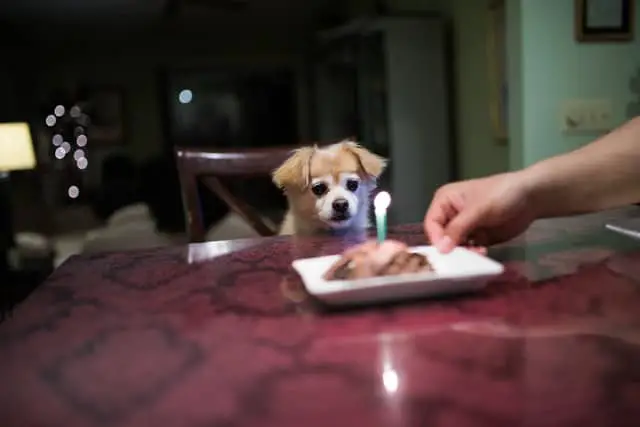 Cooking dog biscuits and biscuits at home is one way to control your ingredients. Remember not to use those to which your friend is allergic or intolerant.
To prevent allergic reactions there is a trick: when you are going to introduce a new ingredient, it is preferable to do it in small quantities.
And very important: do not forget that chocolate , raisins, onion and avocado are among the prohibited foods for dogs. Additionally, raw pork can also be dangerous.
And before cooking for your friend at home, consult your veterinarian or canine nutritionist, who can advise you in each case.
To preserve the cake , use a pan and put it in the refrigerator. Another option is to use cotton bags or a closed can. Depending on the ingredients they contain, they will last about two to three weeks in this way. Of course: before offering them to the dog, it is advisable to remove them from the refrigerator at least 10 minutes in advance.
---