---
Nutrition of the English Cocker Spaniel, the right diet to make your four-legged friend happy and in perfect shape.
In this article we are going to advise what is the feeding of the English Cocker Spaniel, what is best to administer and what not, to this exceptional breed with English origins.
The English Cocker Spaniel is a dog with a lively and exuberant character, he loves to play and being always on the move, I put his metabolism in constant motion by burning lots of calories.
However, it is necessary to be very careful as the English Cocker Spaniel is prone to overweight, if you do not give them the opportunity to work off what they eat.
So let's see what the experts recommend regarding the nutrition of the English Cocker Spaniel.
---
Nutrition of the English Cocker Spaniel: quantity
To know the ideal nutrition for the English Cocker Spaniel, it is essential to know some details of its body and its attitudes.
The adult male English Cocker Spaniel measures between 39 and 41 cm, for a weight that varies between 12 and 15 kg.
It is a small-medium sized dog, with a compact and strong body, with a healthy and robust constitution.
Cheerful, sporty, strong and tireless, he needs to move, which is why he is not ideal for lazy and sedentary owners.
From this description it is already quite clear that the English Cocker Spaniel cannot be treated like any other dog.
However, in order to establish the suitable quantities for the English Cocker Spaniel, of this breed of dog, it is necessary to know not only the character and physical characteristics but also the lifestyle.
The English Cocker Spaniel, while being able to live peacefully in an apartment, needs a daily walk to release its energy and run wildly in the gardens.
He loves physical activity and long walks, tireless in games and an excellent companion for children.
Having this information is basic but it is also necessary to keep in mind the sex, age, build and state of health of the individual.
That is why, on the basis of what has been previously said, experts recommend giving an adult specimen of English Cocker Spaniel about 250-300 g of food per day.
When calculating your daily food quantity, also include snacks and focus on healthy snacks, such as dry chew snacks.
However, depending on the physical efforts we make our cocker do we will adjust the daily ration by adding or removing food and calories.
Do not forget that the food ration must include the supply of all nutritional elements and this can be found in a feed suitable for the size and age of your dog.
The doses are to be considered in 2 daily meals, obviously it is also necessary to adjust according to the day . In fact, it can happen an out door where your dog may have burned more than usual.
---
What to feed the English Cocker Spaniel: nutrients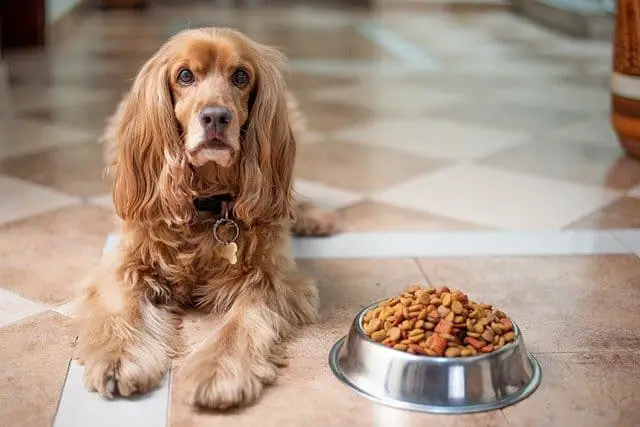 Regardless of the type of diet (fresh or industrial), the product offered to your English Cocker Spaniel must be complete and rich in nutrients.
To make this happen, just pay attention to the following nutritional values contained in the various formulas on the market.
The nutritional values ​​are:
proteins: proteins are responsible for the development and growth of muscle tone and bones in the dog;
carbohydrates: carbohydrates are rich in sugars and are the ones that bring the most energy and fiber, which are necessary for good digestion;
fibers: adding fibers favour a regular bowel movement;
fats: fats are also known as amino acids, omega 3 and 6 or oils. They are an important source of energy and are mainly responsible for the transport of substances in the body and for the support and development of the joints and the nervous system;
Vitamins and Minerals: Vitamins and minerals help keep the immune system strong and healthy.
However, it is necessary to be very careful as many people for feeding their pet prefer fresh food and a home-made diet that is sometimes not complete.
Therefore, if your desire is to personally prepare tasty recipes for your dog, it is advisable to take the BARF diet for example.
If, on the other hand, the time at your disposal is scarce, you can buy packs of complete and nutrient-rich industrial feed, available in many pet shops.
The risks of improper nutrition: what not to give to the English Cocker Spaniel
It is important to know that your English Cocker Spaniel cannot eat anything and especially not all that you can eat.
In fact, it is not recommended to administer the leftovers of your meals as it is not always possible to share our food with the dog.
Some foods are completely forbidden as excessively seasoned or salty, sweet or spicy foods and drinks such as coffee.
It is always advisable to opt for a quality meal suitable for the breed, weight and age of the animal.
---