---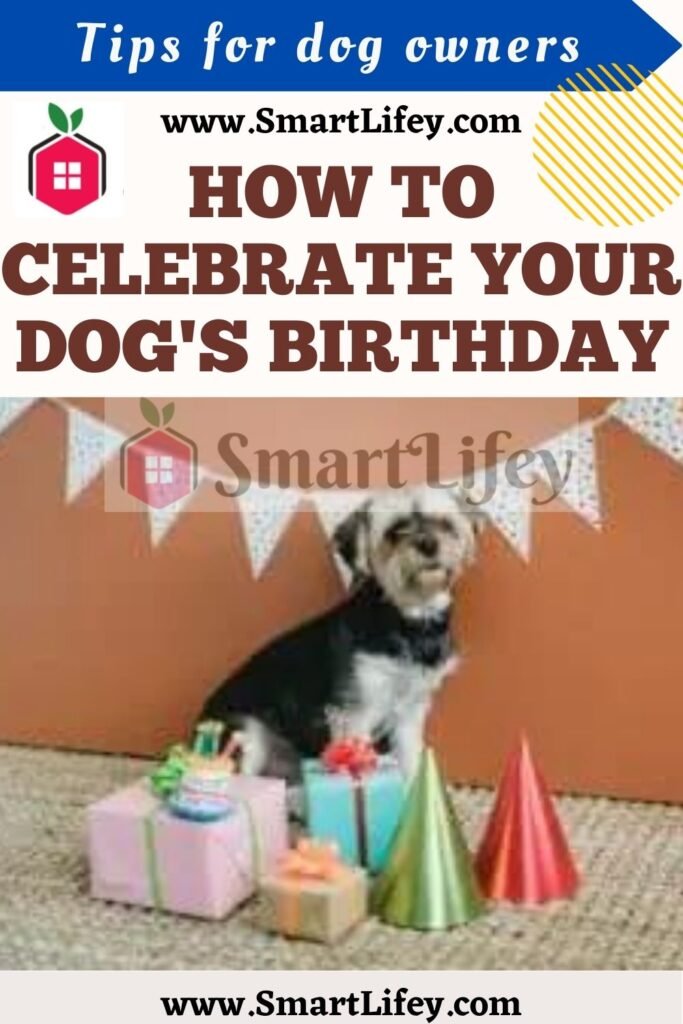 Celebrating with the dog? What better time than their birthday to have fun with dog? Let's find out all the ways to make them even happier.
We can make the dog's birthday unforgettable by organizing a beautiful party and making them have so much fun. A great gift for dear dog, who deserves the best. Let's see, then, how to celebrate with the dog with lots of creative ideas, all fantastic.
---
Celebrating with the dog: a party house
One of the most beautiful things to organize to celebrate the birth of your dog is to embellish their home with lots of decorations and colored balloons. Then, of course, a gift all for them. Let's continue reading below.
Dog's birthday must be even more beautiful and unforgettable than the others for them. Let's take this opportunity to get together as a family and make them feel all the love we feel towards them, cuddling them and lots of parties.
Like people, furry friends age over the years, even if we don't realize it, as they seem to stay the same.
Giving the tender Bau an exciting experience such as a birthday party will make them very happy and he will feel so loved.
Nothing prevents their human master from throwing them a nice party to excite them and let them express all the energy and immense joy that characterize them.
To make such a day truly unique, there are so many incredible ways that will make theer sweet eyes brighter.
Let's start by making the house all festive ! Bright and colorful dog decorations are essential. For the furry there are suitable decorations to buy or create yourself.
We can have fun choosing bone-shaped banners or fill the rooms with confetti suitable for their presence. Before sitting down at the table with dog, it would be nice to write a small menu with all the delights it loves.
Give a gift it can appreciate
After years of living with the dog, you learn to understand his tastes even in terms of toys and favorite activities.
Therefore, it will be child's play to choose a soft or hard toy for them, with a shape and purpose that appears in their preferences.
Your furry friend will be thrilled to unwrap the perfect gift surrounded by their family.
Celebrate with the dog: cake or ice cream
The four-legged friend has their own cake that it can enjoy in the company of other dogs, present on a memorable day.
There are many sweets and cakes that you can prepare for the occasion, that you can also offer to human guests. In fact, a good dessert can be prepared with ingredients such as wholemeal flour, eggs and baking soda, which can be ingested by the little ones.
Alternatively, you can have a nice fruit-based ice cream, homemade by us, with ingredients such as banana and white yogurt.
Ice cream is another favorite food for dog and their friends. The presence of other dogs is essential to make them happy on their birthday. Let's read further.
---
Dog and their birthday: other ideas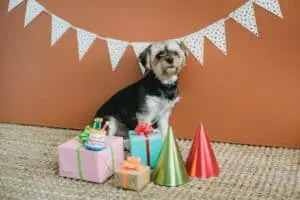 On their birthday, it's only right that the little dog celebrates with their fellows, caught up in enthusiasm and ready to play with them for hours. Let's see more here about this and other useful tips for the party.
Dog's birthday, as well as that of their human, must see the arrival and meeting with their dog friends.
They can be the furry friends of the neighborhood or the dogs of people close to the family, as long as Bau has known them for some time and gets along well with them, to be able to have fun and play in safety and serenity.
A fantastic idea is to give a souvenir photo of the whole furry group present for them that day: we create a kind of photographic set with a colored background and with the words "Happy Birthday", equipped with a frame and balloons.
In between, we humans can also fit in and take a nice picture of their complete family, human and otherwise.
Hats, rosettes and bow ties are excellent ideas to make the dog feel like the birthday boy and the protagonist of the moment at home.
When they realizes their party, we offer lots of games to play all together. While playing group games, we give snacks to the furry friends to keep them calm.
Finally, small gifts for guests must not be missing before leaving. Let's think of cute bags with tasty snacks inside or small toys for furry friends.
---