---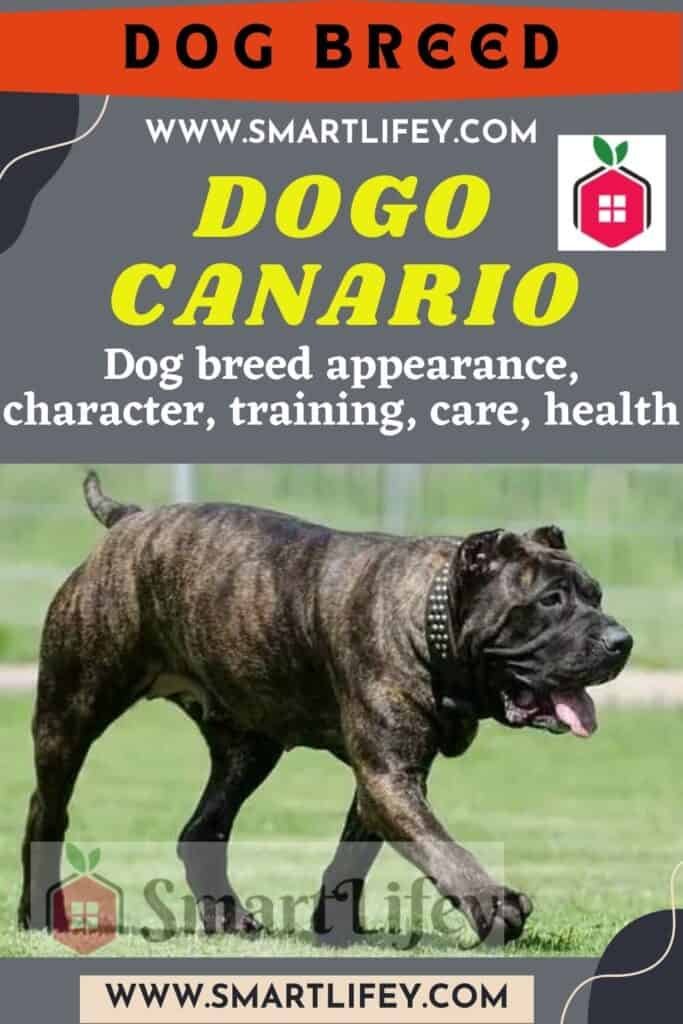 Among the characteristics of the Presa Canario, also known as the Dogo Canario, it stands out that it is muscular, large and rustic in appearance. This dog has a gentle, loyal and very self-confident character. At Petlifey, we explain everything about the Presa Canario.
---
Character of the breed Presa canario
As a good companion animal, the Presa Canario dog breed has a balanced, loyal, and noble character. In addition, the personality of the Dogo Canario is that of a pet very attached to its family and especially affectionate with children.
This canine pet has a serene demeanor but with great self-confidence, it is a noble, brave, alert and vigilant animal. Meek, faithful and very attached to its master, its temperament is balanced.
Temperament: strong, active and courageous, it is an excellent guardian, always attentive and firm in vigilance. It has a very balanced and self-assured temperament, and with his family he is meek, noble and affectionate.
Sociability: medium / high. Very attached to its owner, if it gets used to it since it was a puppy, its relationship with other dogs is good. Be suspicious of strangers.
Energy: high level. Active and energetic, you need to exercise a certain intensity on a daily basis.
Adaptability: medium / high. Its ideal environment is a spacious country house with available land. Their barking is low and deep, which can become a problem.
Health: rustic and healthy, it may suffer from a typical condition of large breeds.
Longevity: medium. Live 10 to 12 years.
Utility: versatile. Originally it helped in driving and dealt with cattle. Then it was a fighting dog and today it works as a guardian and as a companion animal.
Use: storage and care of cattle.
What is your character with children?
As we have commented previously, the Dogo Canario is an animal that behaves very well with children. It is patient, it likes to spend time with them, share adventures and receive their caresses and pampering.
But we must not forget that it is a dog of enormous size and with great strength, so it is advisable not to leave the children and the dog playing alone the first few times to avoid involuntary "accidents".
It is also very important to educate the smallest of the house so that they know how to respect the animal's space and interact with it in the appropriate way. They must be aware that it is not a toy, but a living being.
Is a dog suitable for an apartment?
Residing in an apartment in the center of the city is not what benefits this canid pet the most, it prefers a house with a garden.
But it can adapt well to a smaller space if we provide it with enough activity and physical exercise.
The Dogo Canario is an active and energetic dog that needs regular exercise. For this reason, its ideal family is one that leads an active and sporty lifestyle. It is not advisable for sedentary people.
It is advisable to make it participate in some form of protection sports, since it is an excellent breed to perform tasks of this type.
---
Characteristics of the Presa Canario
Regarding the characteristics of the presa canario dog, it stands out in its general appearance that it is a very robust, large, muscular and rustic-looking animal, it is well proportioned
The appearance of the Dogo Canario is that of a serene but extremely vigilant, distant and alert dog. Innate qualities of this canine breed found in all dogs.
Its body is large, robust and of rectangular body constitution. It is very solid, massive and very muscular, its appearance intimidating, because its bearing is also very firm, alert and vigilant.
The head is also large, broad and very solid, it has a strong and wide skull, as well as the muzzle, which is also wide and measures slightly less than the total length of the head.It has oval and hazel eyes. They are not very large and their eyelids are pigmented black and well attached to the eyeball, not drooping. Its gaze is vigilant and very attentive.
The ears are set high and far apart, they are triangular, medium-sized and covered with very short and fine hair. In some countries they are usually amputated.
The feet are rounded, strong, solid and resistant, they have large and thick foot pads, and strong, arched toes placed not too close to each other.
Its tail is thick at the base but tapers towards the tip. At rest it is usually carried straight down, drawing a slight curve at the tip in action, it lifts it, adopting the shape of a saber.
As for its coat , the entire body is covered by a layer of fine, very short, rustic hair with a rough texture. It can be brindle (dark to blonde) or fawn (throughout the range).
Let's see now what the Presa Canario is like and what is the breed standard:
Dogo Canario breed standard
General appearance: robust, strong, balanced and well proportioned, its profile is straight and its appearance, rustic. Rectangular in shape, the trunk is powerful and solid, with straight and firm legs.
Size: large.
Height at the withers: between 59 and 66 cm for males and between 55 and 62 cm for females.
Weight: 50 kg minimum for males and 40 kg minimum for females.
Origin: Spain.
Other names: Dogo Canario / Canary Islands Mastiff / Dogue des Canaries / Doggenartige Hunde.
Body: wide, deep and long, it has little marked flanks.
Head: solid, somewhat elongated and broad, cube-shaped, covered with loose, detached skin.
Skull: slightly convex, although rather flat on the forehead, it is quite broad, almost square.
Muzzle: slightly shorter than the skull, it is quite wide, above all at the base, although it tapers slightly towards the nose. The bridge of the nose is flat and has a straight profile, while the lips are hanging, especially the upper ones, but not exaggerated. Seen from the front, they form an inverted "V", and are dark in color on the inside.
Nose: broad and strongly pigmented in black, with large nostrils suitable for easy breathing. It has the upper vertex a little back with respect to the beginning of the lips.
Eyes: They are slightly oval, rather large and are quite far apart from each other. Neither very sunken nor very protruding, they are almost from a medium tone to a dark one, depending on the coat.
Ears: medium and well separated from each other, set high and usually hang and drop effortlessly on either side of the head. If they appear folded, it is in pink. In countries where cutting is allowed, they are amputated to stand upright.
Nose-frontal depression (stop): defined, but not abrupt, it has a well-marked and long central sulcus.
Jaws : the bite is usually scissor, although some specimens have a pincer bite and others even show a slight prognathism. The teeth are wide and very well set at the base.
Neck: it is solid, straight, rather cylindrical, very muscular and a little shorter than the total length of the head. The lower edge has loose skin, which contributes to the formation of a slight double chin.
Chest: of great amplitude and with well marked pectoral muscles, it is deep, reaching at least up to the elbows. The thoracic circumference is very wide and the ribs are well arched. The lower line of the body is slightly gathered in an ascending line.
Back: straight, without deformation and supported by well developed but not very visible musculature, rising slightly from the withers to the croup, which is broad, rounded and of medium length.
Forelimbs: they are strong, straight and with powerful muscles. The shoulders are well sloped. The arms are well angulated, oblique and with perfectly plumbed forearms, they are straight and endowed with broad bones and well-developed musculature. The elbows are set quite high, they are not very close to the ribs but they do not deviate outwards either.
Hind limbs: strong and parallel, no deviations. In the legs, the thighs are long and very muscular, with the correct angles. The hocks are quite low.
Feet: It is the typical "cat's" foot, with rounded toes and not very close together. The footpads are highly developed and black. The nails are also dark, although sometimes they appear lighter depending on the tone of the coat. The rear feet are a bit longer.
Tail: Set at medium height, does not usually go beyond the hock. In action it is raised in the shape of a saber, without curling or falling on the back, but at rest it hangs straight with a slight curve at the end.
Skin: thick and elastic, it is loose on the neck and around, but on the head sometimes, especially when the dog is alert, several symmetrical wrinkles are created whose axis is the central groove that forms between the eyes.
Color: it comes in brindle or fawn color, and wears a black mask. Sometimes white markings appear on the chest, base of the neck, and feet.
Hair: Short, rustic and close to the body, it is a bit rough to the touch. It does not have an undercoat, but some specimens have an undercoat on the neck and buttocks, where the coat can also be a little longer.
Movement: With a long, agile and elastic stride, the animal covers a lot of ground. When walking, the tail goes low and the head barely rises above the dorsal line.
FCI Classification: FCI No. 346. Group 2 – Pinscher and Schnauzer, Molossian, and Swiss Mountain and Cattle Dogs. Section 2 – Molossians.
---
Presa canario puppies
It is very possible that if you are looking for information on the Presa Canario it is because you want to adopt or buy a Dogo Canario puppy. If so, there are a number of considerations that we believe you should take into account to know if it is the right dog for you.
The puppies of this breed are adorable and very playful, but in a short time they can show their innate strength, which can cause small totally involuntary "accidents" with some objects in the house.
Since they were little they need to exercise daily, but always under the supervision of the veterinarian. This will help the correct and adequate physical and mental development of the animal. When they are young, they do not tolerate being alone for a long time very well. Something you should keep in mind, without a doubt.
They also need to receive adequate food for these types of pets. Since their energy needs are greater than those of smaller size and activity.
When acquiring a Dogo Canario puppy, make sure to do so from a Presa Canario breeder specialized in this species and who complies with current regulations. Be wary of suspiciously cheap prices.
---
Education and training of the Dogo Canario
The Presa de Canarias dog is an animal with a lot of temperament and very strong. You need an experienced owner who knows dog behavior well, who is able to impose themselves as the leader of the pack and knows how to establish clear rules of behaviou .
It is also a good idea to turn to professional Dogo Canario training experts for help and valuable advice on its education.
The socialization work that must be done with this dog is also important, since it is necessary to accustom it from an early age to sharing its time and space with other dogs so that the relationship it establishes with them is acceptable.
It is also convenient to accustom it to different situations so that it does not stress or become excessively nervous in front of unfamiliar people or new experiences.
---
Nutrition of the Dogo Canario
Regarding the feeding of presa canario, so that the dog remains in an optimal state (skin, skeleton, joints and muscles), as well as its eyes and hair.
Being a large breed of dog, the amount of food it eats each day is also quite high. This fact should not make you skimp on money to buy food of excellent quality, since its health depends on it.
Due to the high level of energy that this animal uses daily, it is very important that it receives a diet rich in essential nutrients and with the appropriate level of fats (omega 3 and 6) and good quality proteins.
Luckily, there is dog food on the market specially designed for pets of their size and with their caloric requirements. You can buy food for presa canario in specialized stores or conveniently online.
Regarding how many times it eats a day, it is usually given one meal a day. But if you detect that it is devouring it quickly or that it eats with craving, you can divide the daily portion into two doses to avoid it.
---
Health and diseases of the Presa Canario
In principle, the Presa Canario is a healthy and robust animal that does not have a tendency to suffer from many serious diseases, but even so, due to its large size there are certain typical ailments typical of large dog breeds that can affect it more easily, for example:
Hip dysplasia.
Elbow dysplasia.
Stomach twisting or gastric twisting.
Epilepsy (occurs in very few individuals).
In addition, it is an animal whose life expectancy is between 10 and 12 years.
In the same way, it is appropriate to take it to the vet at least 2 times a year. It will be the health professional in charge of monitoring your growth and health.
Likewise, it will be in charge of complying with the vaccination schedule and the internal and external deworming. You should also put the chip on it so if it ever gets lost, the animal can be easily identified.
---
Specific care for the Dogo Canario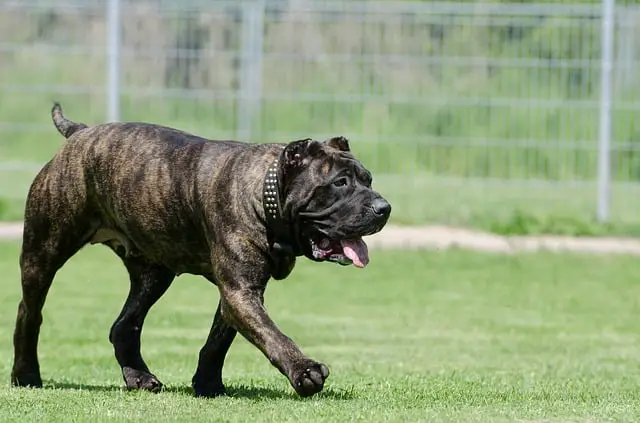 Regarding how to take care of a presa canario, its maintenance is really simple. With short, fine hair, just brush it once a week to make it look good. You must use a brush specially designed for brushing dogs.
On the other hand, to the question of how often the Dogo Canario should be bathed, the answer is that bathing it every 4 or 5 months is more than enough. Of course, unless the dog is really dirty and it is necessary to do it before.
For this, it is very important to use a special dog bathing shampoo. These products are specially designed to avoid damaging the skin and hair of dogs. At the time of rinsing, you must make sure not to leave remains on your body.
Oral hygiene is one of the aspects to which you should pay special attention. Through the mouth is where dogs can acquire many diseases. Keeping teeth in good condition is essential for your pet.
You should also pay attention to the cleanliness of their ears. Nails are something that you should also watch for growth and nails should be trimmed if they grow too long.
---