---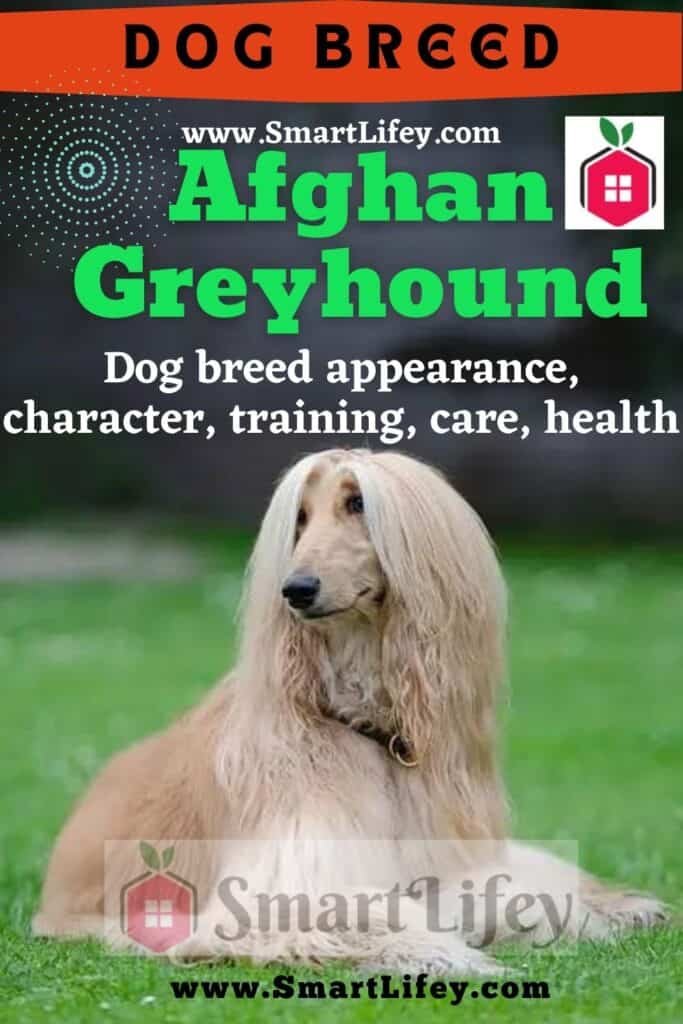 Among the characteristics of the Afghan greyhound that most surprise is the extraordinary elegance of its appearance. Its character is reserved, independent but cheerful, as is the case with almost all sight hounds. It shows a very special affection and attachment to its master, although it remains distant from strangers. At Petlifey, we explain everything about the Afghan dog breed.
---
Afghan Greyhound breed character
Also known as the Afghan hound, it is a brave dog with a lot of courage, the Afghan greyhound is characterized by a temperament that can sometimes be untamed and somewhat unpleasant, although it is not without tenderness and carme.
Although it is true that it presents a point of independence and can even pass for surly, it is an animal with a sweet, loyal, affectionate and sensitive character, with very low levels of dominance in general, which makes it ideal to integrate into the family.
Above all, thanks to its appearance, its bearing and the history that precedes it, from which it will never be able to discard, the breed has a very suggestive air of dignity and spirituality. In fact, some authors have described it as "the king of dogs" for its elegance and majesty.
It is one of the dog breeds with the most personality. If it does not have the right owner, capable of exercising solid and coherent leadership, the Afghan greyhound can become disobedient and surly, and show a very marked tendency to make their own decisions, which makes coexistence very difficult.
However, in good hands it is a pleasant and affectionate companion who establishes a very good relationship with its family and does not usually have any problems with children, despite which it is advisable not to leave him alone with them without a responsible adult to watch and watch. can intervene in the event that at some point the dog runs out of patience.
With strangers, on the other hand, it does tend to show a somewhat distant personality, although without being violent or aggressive, unless it is subjected to excessive pressure or it perceives that there is a real danger to themselves or its family. In those cases, it can react energetically and defend its loved ones or himself from any type of aggression.
As a greyhound, the Afghan is totally happy when running in the field or hunting, or even when racing with other greyhounds. But it adapts well to city life and can feel reasonably well both in a small apartment and in a large country house.
However, although when it is inside the house it appears calm and lies almost all the time lying at the feet of its owner or on its favourite sofa, as soon as it goes out into the field it becomes a dynamic and very active dog that unfolds all its skills and all its repertoire of movements and jumps, unleashing its great energy.
And it is that this breed, strong and athletic, needs to exercise daily, so it is not a good dog for sedentary people.
Majestic and distant, it is endowed with a vigorous character and a penetrating gaze. In short, this beautiful animal, easy to maintain and with a jovial and dynamic attitude, becomes, with a good education, an ideal companion of which its owner can be very proud.
Energy: It is a strong, athletic and energetic animal, with powerful and fast movements, that needs to exercise every day.
Temperament: it is resistant, dominant, brave and with a point of independence, but loyal and very intelligent, reason why it learns quickly.
Adaptability: In the country it is an explosion of energy, but it adapts very well to life in the city or in an apartment, where it is calm and delighted to lie at the feet of its master.
Sociability: medium / High. Although it is affectionate and sweet with its family members, with strangers it is surly and distant, very defender of its territory.
Health: It is a generally healthy and robust breed.
Longevity: medium / High. Live an average of 10 to 15 years.
Utility: versatile. It is a hunting dog that has been used in races and, above all, for company.
Use: hunting, racing and company.
---
Characteristics of the Afghan Greyhound
The first thing that strikes you about the characteristics of the Afghan greyhound dog is its general appearance, with an oriental expression typical of the breed.
Considered a treasure of world cinofilia, it is haughty and enigmatic, it constitutes a true pleasure for all those who contemplate it.
The general appearance of this greyhound gives a great impression of strength and nobility, of power and speed combined, and it carries its head high haughtily.
How is the Afghan Greyhound breed physically?
The body of this greyhound dog is endowed with a spectacular, robust and elongated anatomy, in which its beautiful coat of long and silky hair stands out. The back is straight and broad, the chest is strong and deep, and the belly appears slightly retracted.
Its head has well-sculpted lines, thin and long, the skull is rounded and is finished off in a characteristic toupee. The muzzle is long, and the nose is large and black or liver-colored. The eyes have brown irises, which change to gold in the specimens with a light coat. They are located in a slightly oblique position.
It has long ears and is set low, in a very backward position. They fall quite close to the head and are covered with very long, silky hair.
Their feet are large, with arched toes and solid, wide pads. They are covered with thick and long hair. The hind feet are narrower than the fore feet.
The tail is thin and of medium length; the hair forms a fringe at the bottom. It is inserted low and forms a curve like an open ring at its end.
The hair of the Afghan greyhound is a characteristic feature of the breed is the long and very fine hair that covers the sides and the extremities, and that is much shorter on the back and on the face.
Let's see in more detail what the Afghan greyhound looks like and the breed standard:
Afghan Greyhound breed standard
General appearance: it gives the impression of being a very strong and noble dog, as it tends to carry its head high, with pride.
Size: very large.
Height at the withers: between 68 and 74 cm for males and between 63 and 69 cm for females.
Weight: between 25 and 30 kg for males and between 24 and 29 kg for females.
Origin: Afghanistan / United Kingdom Patronage.
Other names: Afghan Hound / Lévrier afghan / Afghanischer Windhund.
Body: rectangular structure.
Head: not very large, elongated, well proportioned, and the crown is a characteristic toupee.
Skull: long and of medium width, it has a well-marked occipital protuberance.
Muzzle: it is elongated and with fine lines.
Nose: generally black, and liver-colored in light-coated dogs.
Eyes: They are usually dark, although some dogs have golden irises, it is placed in an oblique position and its shape is almost triangular.
Ears: set low and very far back, and fall very close to the head. They are covered with long, silky hair.
Nose-frontal depression (stop): presents a smooth transition.
Jaws: they are powerful and have a regular and complete scissor bite, although some specimens close in pincers.
Neck: it is long, strong and elegant, which favours the haughty bearing of the head.
Chest: it is deep and with slightly arched ribs.
Back: it is straight, muscular and of medium length. The rump falls slightly and the hips, prominent, are well separated.
Forelimbs: well aligned with the shoulders, straight and well muscled. The shoulders and shoulder blades are sloping back and are long, strong and muscular. Its arms are long and firm.
Hind limbs: they are strong and well poised, with compact and well-muscled legs, with relatively longer thighs. Its knees are well angulated.
Feet: strong and very large, they are covered with long and dense hair. The toes are well arched and the pads rest firmly on the ground. The hind feet are long but less wide than the fore feet.
Tail: not too short and covered with a little thinning hair; it is inserted low and forms a ring at the end.
Color: there is no color that defines the breed; in fact, there are Afghan greyhounds of all colors.
Hair: the coat is long and fine on the ribs, on the fore and hind legs and on the sides. In adult dogs, from the shoulders back and along the back it is short and tight. In the facial region it is short, while in the forehead and the skull it becomes longer and forms a marked toupee, long and silky. The ears and limbs are covered with hair.
Movement: it moves with distinction, fluidity and elasticity, with a style of great elegance.
FCI Classification: FCI nº 228. Group 10 – Sight hounds. Section 1 – sight hounds with long or wavy hair.
---
Afghan Greyhound Puppies
If you are reading this article with information about the Afghan greyhound, it is very possible that you are considering the adoption or purchase of a puppy of this breed. But before you can make the big decision, there are a number of aspects that it is good for you to know.
The cubs Afghan hound have no long coat typical of the breed, as it begins to grow from approximately the first year of life. At this stage they are characterized by being very restless and playful.
It is very important to start the socialization process of the little ones as soon as possible (always with the permission of the veterinarian). The animal must get used to the presence of other dogs, pets, and be in different places surrounded by different elements and noises of everyday life.
Only in this way will we avoid having a fearful, skittish companion dog or one that does not tolerate the company of other animals.
For this animal to be happy, balanced and stable, it needs to go out frequently, where it can unleash its excess energy. Therefore it is not recommended for owners with a very home or sedentary life.
---
Afghan Greyhound breed education and training
As for how to educate an Afghan greyhound, it is very important to develop an intense work of socialization since it is a puppy of a few weeks.
Before it even leaves the breeder's house, to prevent them from becoming an overly shy or fearful adult.
And as for training, it is a breed that learns quickly, because it is very intelligent, but if you want to obtain the best results it is necessary to have a person who has certain knowledge about the keeping of sight hounds and is able to combine in its just measure firmness and affection.
---
Afghan Hound feeding
Regarding how to feed an Afghan greyhound , it should be noted that despite not being one of the dog breeds most prone to obesity, if you cannot exercise properly and lead a sedentary life, you can gain unwanted weight.
Being a very active dog, it needs to have an adequate diet for its energy expenditure. In your diet there should be a sufficient amount of high-quality protein and healthy fats to keep your hair, skeleton and muscles in perfect condition.
Fortunately, today it is easy to find food for greyhounds in specialized pet stores, or it can also be easily purchased online.
---
Health and diseases of the Afghan Greyhound breed
Physical activity is necessary to keep you healthy and strong. Although in general it is a very healthy dog and little exposed to important conditions that can be considered as its own, except for some possible skin and coat problems, often related to an inadequate diet.
In any case, special attention must be paid to their ears , since their hanging ears and well covered with hair can make it difficult for the ear canal to aerate and lead to the appearance of infections.
The most frequent health problems in the Afghan Greyhound are:
Hip dysplasia (malformation of the joint).
It is a breed of dog that is very sensitive to anesthesia, cortisone, and tranquilizers.
---
Specific care of the Afghan Hound breed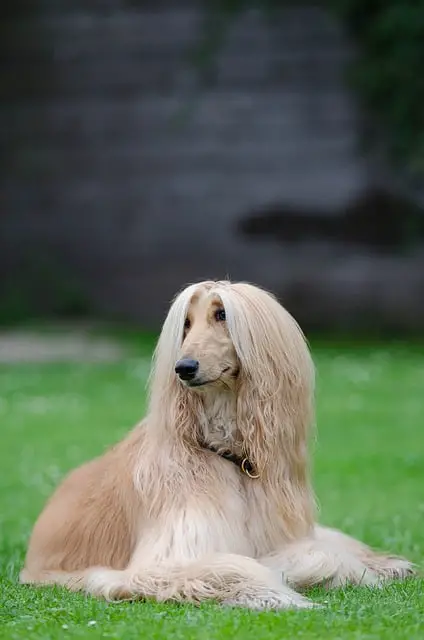 The coat of the Afghan greyhound, one of its most distinctive characteristics, is beautiful, abundant and long, but it can become a problem if it is not cared for properly.
Thus, it is important to know the basic maintenance techniques so as not to have knot problems or even breakage of the mantle.
The care of the coat of the Afghan greyhound depends to a large extent on its quality (on the genetics that determine its texture, quality, abundance and length), as well as on the lifestyle of each specific individual. Up to the first year of life its maintenance is minimal, but from that age the coat becomes longer and more abundant, so it is necessary to start accustoming the animal to certain habits and hygiene and grooming routines.
Afghan Greyhound Bath
The frequency of the bath depends mainly on the lifestyle that the dog leads and the activities to which it usually engages. Thus, if it goes to exhibitions or if its owners want to have it in full condition, it should be weekly, but if it is a simple family dog, the frequency can be reduced to a monthly bath.
It is important to bear in mind that the more frequent the bath, the less brushing is necessary, which serves to keep the hair loose and free of knots, but is also responsible for a greater fall and breakage of the coat.
In any case, it is essential to always use a suitable shampoo for the Afghan greyhound's hair type and to use a conditioner that provides the coat with adequate looseness and prevents the appearance of knots.
For the drying operation of the coat, use a special dryer for dogs and not leave any residual moisture, to avoid possible tangles.
Afghan Greyhound brushing
Grooming the Afghan hound is a job that requires a lot of time and patience. It is advisable to brush it three times a week.
The most important thing is never to do it dry, so it is recommended to spray the dog with a special moisturizing product or spray a mixture of water with a few drops of special oil, as this greatly facilitates the work and prevents the hair from becoming break.
As for the brush passes, they must always be carried out from the bottom up, that is, starting with the hair closest to the body and working through sections, little by little.
It is advisable to use a metal bristle brush with a padded base, so that, in the event of finding a tangle, it does not break. Once all the strands have been brushed separately, a metal comb can be passed along the entire coat to leave it completely loose and stretched.
Afghan Greyhound Arrangement
The Afghan greyhound needs little specific arrangement and in principle should be as natural as possible; the objective is to remove some of the hair from the areas of the back, neck, tail and lower part of the front legs. And the best way to pull out this excess hair is to do it with your fingers, to avoid breaking more than necessary.
It should start at the back, moving from the withers to the tail, and then continue towards the marked iliac bones so typical of the breed. Then continue with the hair on the tail, an area in which it is necessary to proceed with great delicacy because it is very sensitive. Finally, the fringes are leveled with scissors.
The neck, in principle, should not be touched, unless it has a lot of hair, in which case the sides can be unloaded with the help of the fingers. Finally, with the pumice stone you can achieve a natural finish.
---