---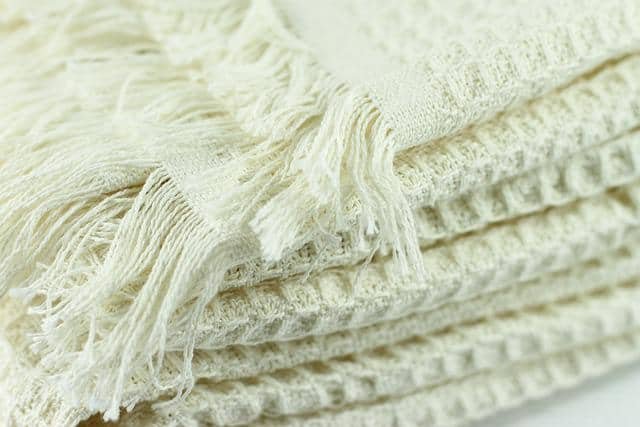 How to choose the blanket for your bed?
The first cold begins and with them the chills in the bedroom, how then to rest in the warmth even in winter? She returns inexorably, the protagonist of your rest in the bedroom but not only: the BLANKET! In fact, if for your bed you prefer it to both double and single duvets or, if you are chilly, you like to add it to the duvet or under the bedspread, this article is for you: discover our guide to blankets against the winter cold, such as are the differences between natural blankets in wool and cashmere and synthetic blankets in polyester and viscose.
---
What material for your blanket
When you say "blanket" you open up a world made up of many materials, colors, sizes and uses. In fact, on the market we can find many materials and many combinations of materials with each other:
100% POLYESTER, that is totally synthetic: the blankets and especially the plaids of this material are very soft to the touch and are cheap. Polyester blankets are the most bought for good value for money! But beware of hair that gets electrified and then we can look like porcupines!
COTTON-POLYESTER: light blankets, especially suitable for the sofa to be used with temperatures that are not too low and since they are often super trendy and fashionable, with patterns such as tartan, square and tartan, some measures can also be used as a shawl / cape to wear over your coat!
WOOL-POLYESTER-VISCOSE: this is where our warm wool takes over, usually 70%. This type of blanket, not too heavy, allows you to stay warm especially on the sofa and in bed, combined with a quilt or duvet.
WOOL-COTTON: in this composition, the protagonists are the natural materials. Often in blankets this way silver is inserted, an anti-mite and antibacterial element par excellence that guarantees maximum hygiene!
100% VIRGIN MERINOS WOOL: here is the undisputed queen, pure wool! The pure wool blanket is not a blanket but it is the blanket! New  wool that is not reused or regenerated and merinos, that is, coming from a breed of sheep appreciated  above all for the quality of its fleece. It is a very fine and precious wool. This blanket is part of the tradition, it is handed down from generation to generation for its "almost eternal" duration. If it is not part of the kit, we are short of it!
WOOL-ALPACA / CASHMERE: the value rises with this mix as well as the softness and enveloping warmth. Used mainly in the mountains and bought by those who are connoisseurs of blankets.
---
Trendy and warm! Discover the colors of the blankets
The world is full of plaids and blankets, plain or patterned. Usually  the blankets in wool or wool blend are almost always plain color. This is because, being long-lasting and very valuable, there is a tendency to offer variants that are not too eccentric or that tire with the passing of the seasons. Dark colors like brown and gray or neutral colors like camel and cream are the most popular.
For the other types of blankets and plaids, on the other hand, the more you have, the more! Colors, patterns .. In fashion, currently the tartan, houndstooth, herringbone or Scottish patterns of past years are back current, in short, a return of great updated classics.
---
How not to spoil the blanket
How not to spoil the beloved blanket? First of all, it is necessary to read the label because, in addition to the indication of the percentages of materials used, it is reported as how to wash our dear blanket, without ruining it over time with washing.
It is however advisable: take the blanket to someone who is expert in specific washing or, if we prefer to wash it at home, wash it at a low temperature, use a detergent for delicate clothes, avoid spinning and drying.
Once  dried in the shade (not in the sun), we can store it in the purchase box or, even better, put it in vacuum bags! So that the moths do not feed on our blanket during the summer making us discover nasty surprises with the beginning of next winter!
---
In conclusion…
As you have seen today there are a lot of variety of colors, patterns but above all materials to guarantee you a rest and relaxation in the warmth but…  In a super trendy way! Well… Grandma's blanket goodbye! Because style also passes through rest.
---