---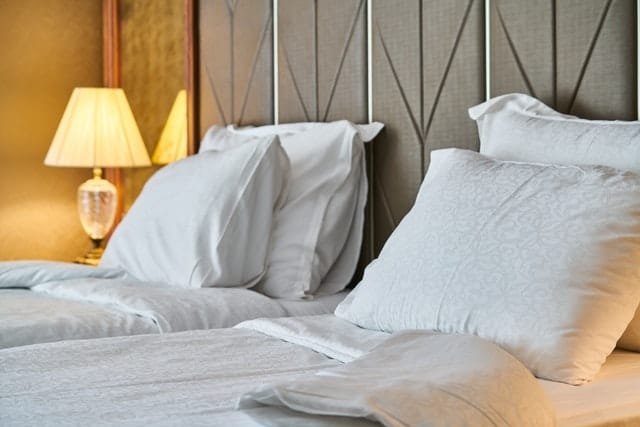 Discover the materials for soft pillows
In this article we explore the materials of your pillow, starting with the fundamental distinction between natural and synthetic pillows.
---
Natural Pillows
The classic feather and down pillow has outstanding characteristics of softness, anatomicity and comfort, thermoregulating, breathable and dehumidifying qualities as well as being ecological and recyclable. It is usually lined in tightly woven cotton to prevent the feathers from falling out.
To keep the characteristics of softness and anatomicity intact, the down pillow needs constant maintenance. It is recommended to shake it every morning to regain its shape, let it air for a few hours, dry clean it and use an anti-mite pillow cover.
The linen and wool pillows are dry and fresh. The wool pillow is soft and ideal in winter and throughout the year, thanks to its thermoregulating characteristics; while the linen one is stiffer, fresher and ideal for those who suffer from heat during the night. Natural fiber pillows tend to accumulate mites and bacteria for this reason it is advisable to use anti-mite pillow covers, shake them every morning and air them to maintain their shape and hygiene. They are washable at 60 degrees and it is recommended to change them every 3 years.
Latex pillows can have different shapes, from the classic soap shape to the ergonomic cervical shapes. They have great elastic, hypoallergenic and antibacterial characteristics thanks to their microcell structure which makes them dry and fresh. They instantly resume their original shape, even after long crushing, which is why they are used for ergonomic pillows. To keep the latex characteristics unaltered, it is advisable to air the pillow often, without exposing it to direct sunlight.
---
Synthetic Pillows
The cushions in synthetic materials can be made in various shapes and characteristics. The shapes can be different according to the material we use, that is cervical anatomical shape or soap for the Memory pillows, and classic soap shape for the fiber pillows.
Fiber pillows have a bar shape in most cases. They recreate the comfort and softness of classic natural fiber cushions. They are hypoallergenic and anti-mite therefore particularly suitable for those suffering from asthma or allergy but do not want to give up the characteristics of natural fiber pillows. They do not need special maintenance and many can also be washed in the washing machine.
The Memory pillows perfectly follow the shape of the neck and keep the spine in the correct position, without creating pressure points or pushes by the pillow itself. The synthetic foam is very ductile, it can have various shapes, from soap to cervical shaped, maintaining antibacterial and hypoallergenic characteristics. Also in this case, as in synthetic fiber pillows, there is no need for special precautions.
---