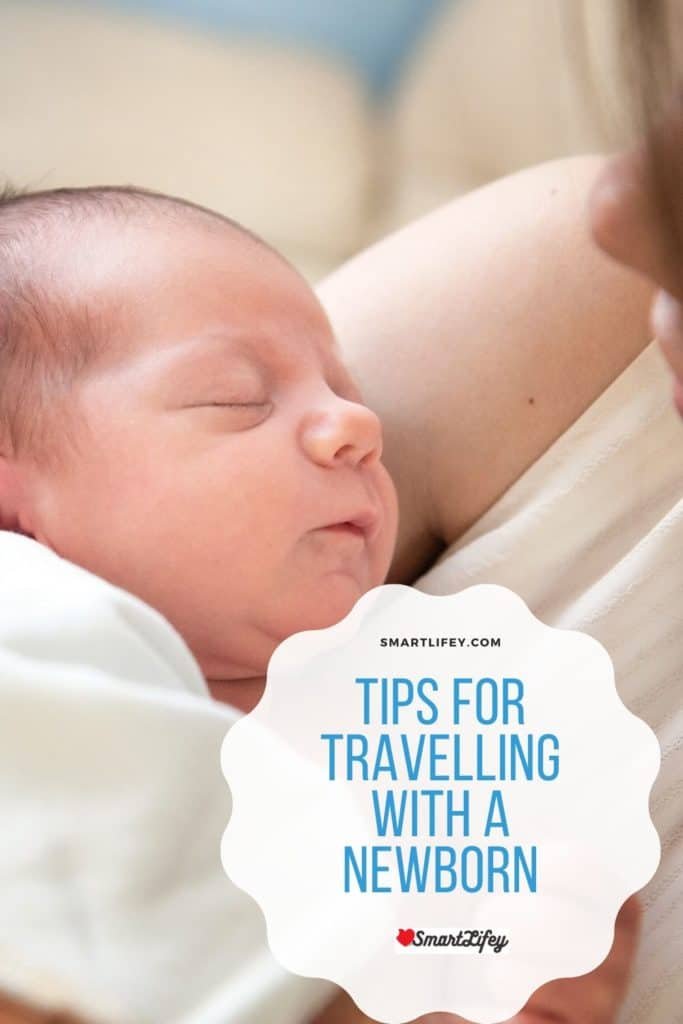 Where to go on vacation with a 3-month-old baby? You can go to any destination, or almost all! Except for adventure travel, high-altitude hiking trails, and extreme weather destinations, parents shouldn't give up on their usual vacation. Traveling with a newborn is possible. You just have to know how to organize. Do you want to know how? Continue reading!
The first question for all first-time parents is: But won't such a long trip be bad for the baby? The truth is that traveling with a newborn , even if the journey is long, does not have to be bad. If the baby is in good health and does not need special vaccines for the destination country, he can travel without problems. Even by plane? Yes, even by plane. After the first month, there are no contraindications to fly. To verify this, you can read the airline's policies in this regard: there are those who accept children after only two days of life, some after one week, and others after 15 days after birth. In other words, you can travel with children by plane without risk.
And incredible as it may seem, traveling with a baby can be, paradoxically, less stressful than traveling with older children. Not only do they sleep more hours, nor do they have to invent activities to entertain them during the journey. The newborn, whether on a trip by car, by plane or by train, will simply enjoy the pleasure of being in the arms of his mother.
By three months, in fact, your baby has probably already established a sleep and diaper change routine (with a little luck). It will thus be strong enough to face a new environment and new conditions.
5 golden tips for traveling with a newborn
1. Adapt your expectations
The golden rule: accept the reality of your new family circumstances. Therefore, adapt your vacation idea to your newborn. Have you given birth a few months ago? You can not think that you will go out for drinks every night and that in addition to sunbathing, you will take long walks with a jet ski along the coast. This year, your summer will be made up of more intimate pleasures, less sleep, but new discoveries. If you accept the idea and stop comparing these vacations with those of two years ago with your partner, you have already taken a great step.
A good strategy is also to organize your vacation with couples of friends who have young children. In this way, it will be more fun to share experiences and you can have some extra help. In fact, maybe together you can find a shared babysitter  that will allow you to disconnect from time to time.
2. Choose your destination and accommodation well
First of all, with a very young child, it is better to rent a house, apartment or bungalow, rather than book a hotel. These options offer greater flexibility of schedules, the use of a kitchen and more space. If you think it will be too much work, another option is to take your own babysitter on vacation.. In addition to helping you with the baby, he can help you with small household chores.
Last but not least, it is better to go to places where you have access to a washing machine. The alternative is to put all the clothes possible in a suitcase, but besides being impractical, it would be impossible with the rhythm of a newborn. Babies at this age do not stop getting dirty.
¿ Where to go on vacation with a 3 month old baby ? If you go to the sea, make it an easily accessible beach, and better sand than rocks. Coastal sites with temperate climates are usually preferable. If you opt for a mountain destination, any place is good. The only requirement is that the altitude is correct for a newborn.
But above all, if you like to travel, take advantage of the fact that airlines do not charge children until they are two years old (as long as they do not occupy a seat). Take the opportunity to fly to destinations that are far away. Among other things, because traveling by plane with a newborn is much easier and more relaxing than traveling with children one year old or older.
3. Travel light, use "smart" suitcases
Don't panic, you don't have to put the whole house in the suitcase! Try to save space by planning everything in time. The key to making "smart suitcases" is to make a list around the main areas of baby care:
feeding,
dream,
clothes changes,
entertainment.
Prepare in advance everything you can carry and check out these amazing gadgets for traveling with young children. A practical tip is not to take everything you can buy at the destination (diapers, wipes, powdered milk if you do not breastfeed, etc.). You will avoid carrying weight unnecessarily. 
CLOTHING CHANGES
Carry a complete change in your hand luggage. In case of accidents, it will be great to bring an emergency change. Put everything else in the suitcase, taking into account whether or not you can have a washing machine at the destination.
DIAPERS AND CLEANING PRODUCTS
Bring only the diapers necessary for the trip, always a few too many. The rest is better to buy when you arrive. There is no point in traveling with a full package of diapers, when you can buy them at any supermarket in your destination.
MILK POWDER
If your baby is not drinking breast milk, put a bottle and powdered milk in your carry-on luggage along with a bottle of mineral water. The electric bottle warmers are very practical to take on the go. You can use them both if you go by car or by train. If you travel by plane, you can always ask the flight attendants for help.
In the case of baby bottles with formula milk, we always recommend that you use mineral water for their preparation. On the other hand, you can use disinfection tablets for bottles instead of having to constantly boil them in water.
PACIFIERS
Yes, pacifiers in the plural. We already know that children can get used to a single brand, with a certain type of teat. So it does not hurt, that you take several with you (also for possible losses). By the way: don't forget the special chain.
SHAWL OR BLANKET
Traveling with a newborn is always easier if the baby is wearing a blanket or toquilla that reminds him of home. The smell of your home will serve to calm the child and make him sleep easier. Another plus: You can use it for a little more privacy while breastfeeding on the train or on the plane.
TRAVEL CHANGER
A small, foldable, lightweight and washable travel changer – essential for traveling with a newborn.
LIGHT TOYS
Bring home rattles, stuffed animals, all those toys that can entertain your child. However, try not to be particularly noisy, especially so as not to disturb other passengers on the train or plane.
MEDICATION
In addition to the specific medication if your child has any illness, don't forget to travel with:
ibuprofen
paracetamol
hyposodium serum in sachets
Don't forget to take the vaccination certificate with you, you never know what can happen.
4. Make the trip comfortable
An old trick to cope with long trips with a newborn: try to travel during the hours that your child usually sleeps. Also remember to bring some parasols with suction cups; they adapt to any window (train, car, bus) and will prevent the child from being disturbed by the sun.
Lastly, remember to dress him in such a way that changing the diaper is as easy as possible. Every two hours stop the car or get up from the seat if you go by plane or train, so you can have a little fun.
5. Distract, distract, distract
Every once in a while, talk to your son a little, joke with him, sing a little song. Another important thing when traveling with a baby, whatever the means of transport: take him in your arms, and take a walk every now and then. The change of scenery distracts the child, amuses him and calms him. Obviously, in the car this implies frequent stops; not bad, you can recover when baby sleeps!
Recommendations for traveling with a newborn by car
First of all, be sure to bring an age-appropriate approved safety seat. You can read everything about child restraint systems in the following DGT guide . The newborn should travel in the appropriate zero group, looking back. Remember to deactivate the airbag in the child seat. If your baby is traveling in reverse, don't forget to hang something that may be a little distracting.
Other helpful tips for traveling with newborn babies by car :
Place parasols with a suction cup or tinted glass
Play relaxing music at low volume
Respect your sleep schedules, as well as your usual eating routine
Remove the child from the car when the vehicle is stopped
As a general recommendation, when traveling with a baby in a car, don't forget to stop to change his diaper, make him stretch his legs and try to entertain him. Remember to wear comfortable clothes to easily change diapers.
And most importantly, the child should never, but never, be left alone in the car, even for five minutes.
If you follow these simple rules, traveling by car with a newborn will be much easier.
Recommendations for traveling with a newborn by train
Traveling with a newborn by train requires, as with other modes of transportation, a little planning time. Above all, make sure you have put everything you need in your travel bag (see our tips on "smart suitcases"). If you take a bottle and the train does not have electric plugs for the bottle warmer, ask in the cafeteria car or the attendants. For everything else, follow these 4 simple rules for traveling with a newborn by train :
try to reserve extra space for your child: you will need it for the diaper change or to stretch a little;
dress the child in several layers to make him feel good at different temperatures;
Arrive on time at the station: it is essential to reduce stress;
If the baby starts crying, begins to walk with him in his arms, he will be distracted and will eventually calm down.
Recommendations for traveling with a newborn by plane
Traveling with a newborn by plane is much less dramatic than you think. In fact, airlines are generally well equipped to accommodate families traveling with babies. For example, if you book in advance and are well informed, you can take advantage of special features such as the crib that hooks to the wall in front of the seats. Strollers are not considered carry-on baggage, so you can take them to the cabin and then take them out when the plane lands.
Take note of the main tips for traveling with a newborn by plane :
do not board first, even if you have priority for families. It doesn't help much, just to lengthen the trip and the waiting time;
During the take-off and landing phases, give the pacifier or suck the baby: it will help to avoid discomfort in the ears due to the pressure change;
For long trips with newborns, it is better to buy what is necessary at the destination. You will spend a little more, but you can have more space in the seat or stretch your legs while holding the baby in your arms. In short, the lighter you fly, the more comfortable you will feel;
don't forget to wear a shawl to protect the baby from the air conditioning, or to breastfeed with a little more privacy;
Avoid traveling in the flu season, the plane is an excellent vehicle for contagion.
After reading the article, do you still wonder if traveling with a newborn is bad? Enjoy the trip and tell us about your experience in the comments section!