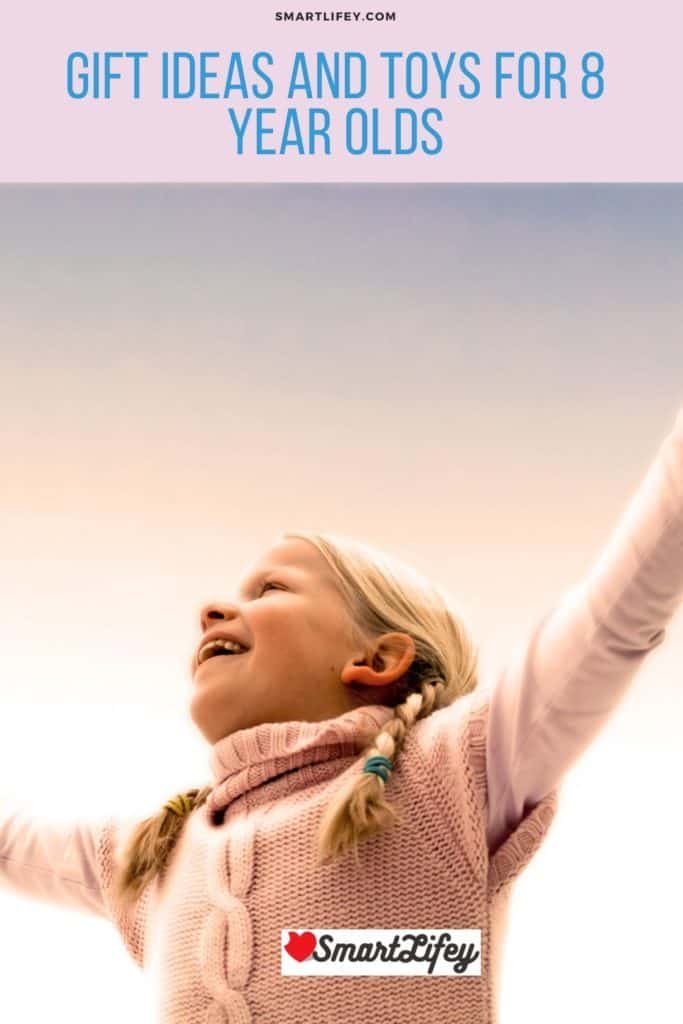 Gifts for children of eight years, which are the best? Undoubtedly, the toys with which a sparkle lights up in your eyes, those that surprise you and that have not been locked in a drawer for months. You can buy them you, the Three Kings, Santa Claus, grandparents, any family member or friend, the fact is that they never go out of style. In this great selection you will find different ideas, all suitable for children from 8 to 10 years old. Grab a pencil and paper because we are sure you will find what you were looking for!
What to give to an 8 year old?
Finding the perfect gift for an 8 year old is no easy task. At this age, children already have a strong character. On the other hand, they begin to consider certain toys as "small". If you ask an eight-year-old what he wants as a gift, he'll likely reply by asking for video games or the classic fashion toys for 8-year-olds . But if what you want is to surprise him with something that he does not expect, it is time to read these ideas to give children at Christmas , Kings, birthdays or even his first communion. 
This is the ideal age to develop creativity, logic and imagination. In our post on educational games for kids ages 8 to 9 , you can also find plenty of useful gift ideas. Here we give you even more original options.
Original gifts for children from 8 to 10 years old
Don't just think about toys! At these ages, there is always room for something different. No one has said that a classic children's toy is a must. We give you some examples.
Give an experience
Instead of a toy, you can give an experience: sailing lessons, skateboarding, skiing, the first ride on horseback… Approaching something completely new is a gift that the child will always keep in his memory. Without necessarily having to become a sport to practice the rest of the year. It will be as simple as turning a day into something special and different.
Gifts to feel older
Many objects in common use can become the ideal gift for an 8 year old . His first set of house keys in an original key ring, a wallet like his father's, his first DIY toolbox … They are simple gifts, not excessively expensive, but they can be something very special for a child of this age.
Plants
Have you ever thought about giving a plant to a child? It is an original gift for an 8-year-old boy that nobody would think of. However, if it is chosen well, it can cause real fury. In addition to being useful and decorative, you will learn to care for and take responsibility for a living being. From climbing plants to carnivores … the mimosa pudica, also known as "shy plant", which retracts when touched, is also a very original option. Take a look at this video to experience the same amazement that the child will have when seeing it.
Inexpensive gifts for 8 year olds
When we have little budget, what to give a child for his communion, his birthday or for Christmas can become a real headache. However, he thinks that cheap gifts for children, in addition to surprising them, can be a success when they develop their imagination.
Diary and safe
At this age, the child begins to want his own privacy and keep his secrets. So this is one of the best gifts for eight-year-olds . A secret diary with a padlock, like the one in the photograph, will be a discovery for the little one. Not only will he be able to count his day to day, if you buy him a metal box with a lock, he will also be able to keep his most precious treasures. You can find small "safes" at any neighborhood hardware store.
Calendar
A beautiful and colorful calendar to hang in your room is a cheap, practical and decorative gift. We recommend that you choose the model according to the interests and hobbies of the child.
Personalized gift kit
Gifts for eight-year-olds, in addition to being purchased, can be made. This is the case of custom kits. What does it consist on? Take a nice box and fill it with what the child likes to play. Some examples? Our favorite option is the surprise craft box. Fill a colorful cardboard box with everything you need to make your favorite crafts: moving eyes, plastic straws (check out our fine motor activities with straws ), cardboard, eva rubber, scissors …
Another option is the knitting box (with balls of wool and needles), the explorer box (with magnifying glass, bags to collect insects, compass) or the costume box with clothes and all kinds of loud accessories.
10 other gift ideas for 8 year olds
Creative games
The best toys are those that the child imagines with and the toy is only a starting point. Toys that leave room for creativity are the most practical gifts for children of eight years. They help to discover the pleasure of learning something new and, above all, they make you feel good and reinforce your self-esteem. Creativity can be developed in many ways. Take some time to take a look at the "creative toys" of a toy store or online and you will understand what can be good for the child's personality. Here are some examples:
Ceramic kit
3D pens
Accounts to create objects
Origami paper
A small loom
Kit to create personalized stickers, bracelets or sweets
Plasticine box for modeling
Coloring bags
Clocks to build
Case with waxes, tempera paints, easel and brushes
Stuffed animals
Stuffed animals are certainly not a brainchild as gifts for 8-10 year olds , but they are a great classic! For children who already have a good collection of stuffed animals, you can give away the atypical animal they don't have, the platypus or snail, for example. A small stuffed animal is ideal to carry in the school backpack, and huge animals can become your protectors at night.
Table games
Board games begin to be interesting from the age of 8. At this age, children can remember complex rules, wait their turn, and sit and play longer. There are a plethora of board games to choose from. Our advice is to bet on the classics: Monopoly, Risk, Sccrable, Taboo, Pictionary, chess or checkers. Board games help to concentrate and formulate a strategy, but also to know how to lose and accept the rules.
Sports accessories
Sports boots and special socks for playing basketball, colored leggings for dancing, a new sports bag, a swimsuit and a bathrobe for the pool. Accessories for practicing your favorite sports activity are in the useful gifts category, but kids this age will appreciate them.
Magic games
Interest in magic tricks usually begins in children at age eight. It is at this stage that they have the skill and concentration necessary to repeat a trick, over and over again, until they can do it well. Magic can also become a hobby that continues throughout the years. It teaches the importance of effort to achieve success and helps to strengthen a child's self-esteem by seeing that he can achieve something difficult to do. He thinks that he can also organize a show for the whole family. Start with the simplest cheat packs if it's your first time.
Mask for carnival
Dressing up is fun throughout the year, not just at Carnival. If you choose masks and costumes as gifts for children of eight years, you can use them at any other time of the year: a children's party for Halloween , Christmas, a birthday party … Also, if you avoid buying them at the time of Carnival, their price will be much more economical. 
Playing outdoors
Even if the hot days are still far away, you can still choose gifts for eight-year-olds for traditional outdoor games for children : freesbee, rackets, bow and arrows, basket to dunk, jump rope, skates, skateboard … With the promise to use them as soon as the first sunny day arrives.
Books… for those who don't read
Some children wink when they open a package and find a book. But before you give up on books as a gift for eight-year-olds, try our advice. Instead of the usual book, have you tried to give away a comic? Or an audiobook, just to listen? Or an electronic book? You may be able to bring reading to less passionate children that way.
Games to learn to program
Among the gifts for eight-year-olds, have you thought of a game that teaches the secrets of programming or coding? It is very useful for teaching the active use of technology. There are board games, kits for building and programming robots, books.
Custom gifts
"This is mine!" How many times do we hear a child say that despite being 8 years old? Well, then you will surely appreciate the value of a personalized gift, with your name and photo printed. In many printers, or even online, you can print a photo or text on breakfast mugs, pillows, T-shirts, hats. Think of a nice gift for a breakfast set with a tablecloth or a personalized blanket!