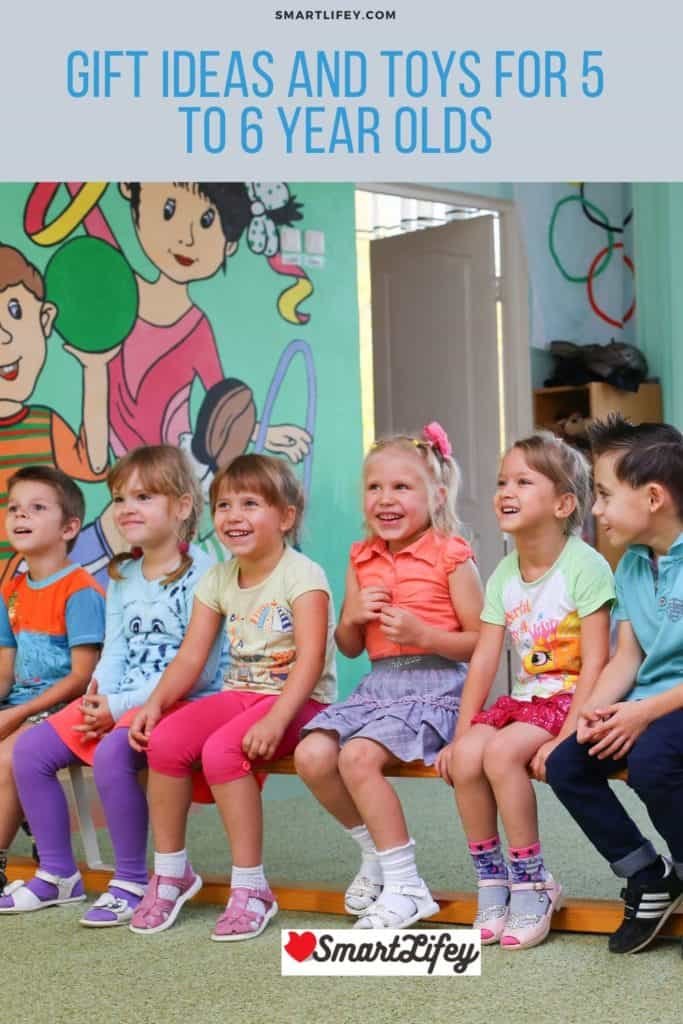 What to give to a 6 year old? And one out of five? Entering a toy store can be dizzying if we do not have clear ideas: there is too much to choose from. To make things easier for you, we have made the best selection of gifts for children of six years, all of them are also valid for children of five. The most original ideas, the best sellers, classic and educational toys … We guarantee that children will be amazed when they open their gift!
Before starting with our selection of original gifts for children from five to six years old , it is important to know what stage of development these little ones are at. They are about to start elementary school or have already started school, they have friends and social skills. They can run, bike, and are autonomous for many other things. At this age, children have an enormous curiosity to learn, but at the same time they need to "let off steam" after school. If you want gift ideas for children that are not toys , or just get out of the classic fashion toy , you are in the right place. Keep reading!
Below you will find the best selection of gifts for children ages 5 and 6. If you are looking for a babysitter or babysitter to help out with the little ones.
In this selection of gifts for children of six years you will find great ideas for children's birthday parties ,
Gift Ideas for Super Creative Six-Year-Olds
All these ideas can also serve as gifts for five-year-olds who like to experiment and make crafts. In short, for the little ones who have skill, but also an uncontrollable fantasy.
1. Children's craft kit
This box for little creatives can contain: cardboard of various colors, pipe cleaners, various fabrics, scissors, glue, mobile eyes, pom poms, silver foil… Any element for making crafts has a place, the rest will depend on the child.
2. Surprise kits
These gifts for children of 5 and 6 years you can make yourself or buy ready-made. You can choose a kit to make bracelets, candles or soap. It is very easy to find games of this type in any toy store. If you make these surprise pack, the result can be more personalized. For children who love drawing, do not hesitate to give away briefcases like the one in the photograph.
3. Children's face waxes
Face paint, with very few exceptions, drives little ones crazy. It's one of the funniest gifts for kids ages six and five. Pencils are non-toxic and allow you to create all kinds of creative makeup. To play with mom, among children, at carnival or to prepare a terrifying Halloween party !
4. The city carpet
This is a perfect gift for a 5 year old whose creativity consists of imagining stories and situations without stopping. In this carpet, the little one from five to six years old (or more) can play with cars, figurines, assemble small lego constructions or household objects, alone or with his friends. You can find it at a cheap price in Ikea , as well as in other online stores.
5. Magnetic balls
From these ages, the risk of choking in children is no longer a danger, so you can afford to make this fantastic gift. With the magnetic balls they can compose infinite shapes, simple or complex structures, everything that the child can imagine. With toys of this type, you will become the master of the game and can give concrete shape to your emotions. A perfect exhaust valve during the school holidays! Toy magnets are among our favorite original gifts for five year olds . They are not always found in toy stores, but you can easily buy them online.
Gifts for six-year-olds who feel older
¿ What to give to a 6 year old boy who wants to look older? These gifts will boost your self-esteem and pride that you are in elementary school (like big kids).
6. Photo camera for 6 year olds
A gift that all the little ones of this age will adore. In fact, they will be able to capture their discoveries if they are little explorers or immortalize homemade children's games with their soul friends. If you have an outdoor birthday party, you'll also want to save the keepsake in pictures. If your child is older, and you know how to monitor children online to avoid risks, you can also use their own photographs. The cameras can be found online, in toy stores or in electronic stores.
7. Children's watch
You can choose between a classic watch, more suitable as a gift for a five year old who is learning to read the time. Another option is the digital watch, as a gift for a 6-year-old who wants to feel as technological as his older siblings. There are all prices for Smartwatch for children , it depends a little on the functions you want. In addition to the time, there are some that give the geographical location (to provide security for parents), play video games (perhaps not so useful for most parents), record voice or play audio and video.
Gifts for children of six years with a scientific and literary touch
What to give to children who have started elementary school with an inexhaustible curiosity? Take a look at all these educational toy ideas for 5 and 6 year olds that will delight the little ones in the house.
8. Planetary projector
It is a magical toy that, in the dark, recreates the night sky on the ceiling of the room. The child will be able to see the stars, the planets and the constellations. There are several models, whose price varies according to performance.
9. Discover the human body
This time, instead of suggesting an elementary age gift , game, or toy, we opted for a theme. It's as simple as taking a look online or at a toy store to find what suits you best. From figures to build the human body, piece by piece, to books with explanatory flaps. The important thing is that it is something simple with which the child can learn.
10. Story Cubes
We never advertise. But this time, we liked the game so much that we couldn't help but include it in our article. Especially since it is really affordable for all budgets. These are the dice to tell stories from Story Cubes . From our point of view, it is among the best educational games for children of 6 years . Children have to start a story by rolling the dice, each with a picture. Every time the turn passes, you have to continue with the companion story inspired by the drawing that appears on the dice. It is the perfect escape valve for children's imagination, it encourages language and creative ability when telling stories.