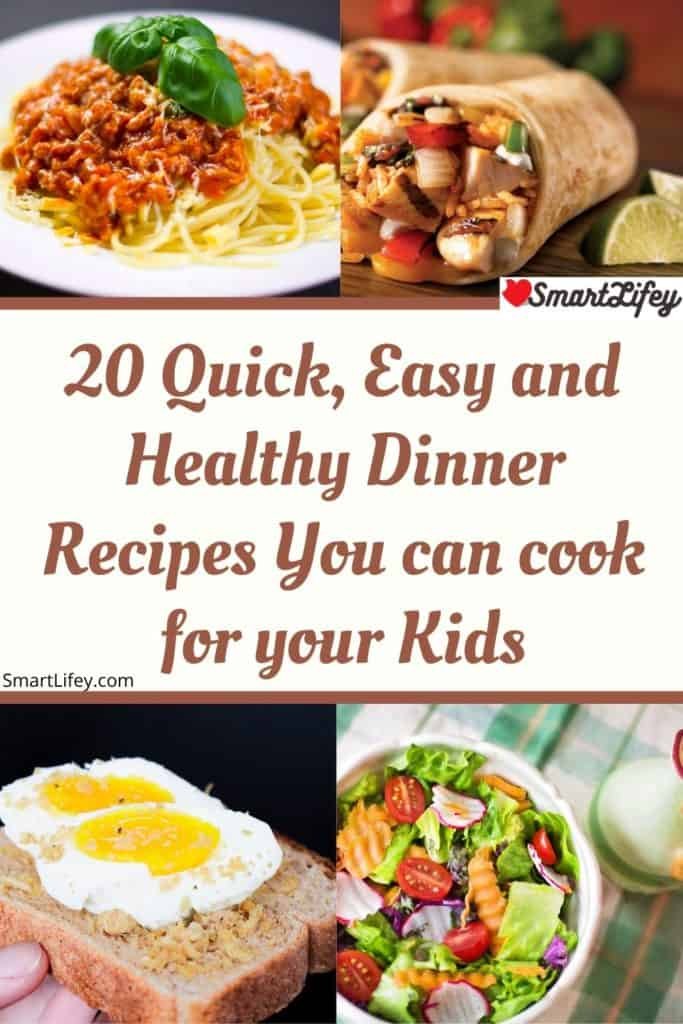 You just got home and you barely have an hour to help the kids with their homework, get uniforms, bathrooms ready and… prepare dinner! How to fix it, especially if your child is a bit difficult to eat? Here are 20 quick dinner recipes for children that will delight the little ones!
After the usual question, "what did you eat at school?" or the consultation of the school menu that hangs on the fridge magnet, triggers panic. It is already eight in the afternoon and we run out of ideas to fix dinner. Let the mother raise her hand if she is not, at least two or three times a week, in this situation. Although you have help from grandparents or a babysitter, at dinner it is common to find yourself alone in danger.
But where to start? To make things easier for you, we have selected for you the best quick and healthy recipes for children .
In all cases, these are recipes that do not require prolonged cooking. All of them are balanced, since they almost always include some vegetables.
Quick dinner recipes for kids: first courses
1. Pasta or rice with zucchini and parmesan cheese
Chop the zucchini into small pieces first. Next, sauté the chopped onion and zucchini in a pan with a little oil. Cook the rice or pasta in boiling water for a few minutes. In less than a quarter of an hour, you will have everything ready on the plate. Add a touch of salt and a pinch of grated Parmesan cheese. Delicious!
2. Pasta with mushrooms
Mushrooms also cook in a short time if they are cut into thin slices (you can find them already cut and washed in the supermarket). Put them in a pot with oil, garlic and parsley. In parallel, boil the pasta. Drain it and put it in the pot. If you want to further enhance the flavor, add chopped Serrano ham or small pieces of sausage. This is one of the first star dishes in quick dinners for children.
3. Pasta with broccoli
Broccoli is often a difficult vegetable to introduce into a child's diet. However, its flavor and intense color makes it a great complement to pasta. Cut it into small pieces and boil it together with the pasta. Drain everything together and if you want, sauté in the pan where you will have previously heated a little oil and garlic.
4. Pasta with "original" pesto
If you've never made pesto, you just need a little patience. Do not feel guilty for not preparing it yourself, much less when there is no time to do it. In the supermarket you can find high quality pesto already prepared. Along with the pasta, pour the boiling green beans cut into two or three parts and potatoes in pieces. Also here it is convenient to give the final touch to the recipe with grated Parmesan cheese.
5. Pasta with pesto with natural tomato
She is the queen of summer recipes for children. While the pasta is cooking, mix together the tomatoes, basil, a little mint, almonds, olive oil and grated Parmesan cheese. Leave everything prepared and when you have drained the pasta voilà! A delicious dinner for children in just ten minutes.
6. Fettuccine with salmon
The egg pasta is cooked in a moment. You will not need more than 5 minutes to also cut a few tomatoes and mix them on the plate with some strips of smoked salmon. Add parsley to taste, and the dish is ready!
7. Polenta and cheese
This is a typical Italian recipe, easy and quick to make. In the following video, a professional Italian chef tells you how it is made. You need: 2 liters of water, 500 grams of ground cornmeal, butter and a tablespoon of salt.
Boil the water with the cornmeal inside. Use a wooden spoon to stir it until it thickens and there are no lumps. It will be ready when it has a mashed texture, add butter. Then pour half of the polenta onto a baking sheet, add the sliced ​​cheese and top with the remaining polenta. A pinch of Parmesan cheese on top, a few seconds of gratin and dinner will be ready.
Quick dinner recipes for kids: main courses
8. Tuna with peas
This is a very healthy and tasty second course for children. If you have a bag of frozen peas in the fridge, take advantage of this idea. You will have to cook them for about ten minutes with a little onion, olive oil and boiling water. When there are a few minutes left to finish cooking, add the tuna cut into tacos.
9. Zucchini omelette
Cut the zucchini into small pieces: they will cook in just ten minutes in a pan, with a little oil and salt. Next, beat the eggs and add them. A little bread and voila!
10. Bresaola and goat cheese rolls
We draw again from Italian cuisine for our selection of quick dinner recipes for kids. Bresaola are thin slices of cured beef. Make rolls by wrapping the goat cheese with the slices. Simple and very fast. The important thing is to accompany the rolls with some bread and salad.
11. Tortilla rolls
Eggs are always a great idea for quick kid dinners. This time, in the form of a French omelette. It can be filled with mozzarella cheese, ham tacos, tuna in oil or whatever we have in the fridge.
12. Chicken and avocado salad
Gourmet recipe for children, original and delicious where they exist. If you already have a roasted chicken breast or if you have had some baked chicken left over from another day, add it to the typical mixed avocado salad. The flavor is fresh and delicious. You can add a splash of soy sauce and a pinch of salt.
13. Fried egg, the king of children's dinners
The first place in the ranking of fast dinners for children is disputed by fried eggs and spaghetti with tomato in equal parts. If you accompany it with a little fried tomato and a cube of white rice, in addition to bread to dip, the children will suck their fingers.
Quick dinner recipes for kids: unique dishes
14. Pasta with ham and peas
We have included this first dish in the unique dishes because it is very complete. Peas can be cooked together with pasta. Serve this delicious recipe by adding butter, Parmesan cheese and cooked ham tacos.
15. Burritos or wrap for children
The burritos, tacos or wrap for children will give your quick dinner the special touch for the smallest of the house. You can fill them with endless healthy and nutritious ingredients. Cheese, salad, tomatoes, julienne carrots, combined with tacos of salmon, ham or cooked chicken, are among the many options for their preparation.
16. Appetizer dinner
Children love to imitate the elderly, and what better than to do it with a varied snack? Cut cheese tacos, prepare some york or serrano ham rolls, cherry tomatoes with olive oil, carrot sticks, pitted olives, assorted breads, hummus and fried potatoes. You can turn the snack even into a dinner snack if you get home a little before work.
17. Mini pizzas
First, buy the prepared pizza bases, everything will be easier. Cover the base with tomato, add a dash of oil and mozzarella to make some great margarita pizzas. You can add mushrooms, ham or even an egg if the children are very hungry. With just 5 minutes in the oven and a few minutes of gratin, you will have dinner ready.
18. Cold pasta
Who said that cold pasta can only be eaten in summer? Pasta supports almost everything and is one of the foods preferred by children for its versatility. You can add natural tomatoes, carrots, vegetables left over from the previous day, an avocado, tuna, mozzarella, hard-boiled eggs. In summary, in 10 minutes you can bring a good and nutritious dish to the table.
19. Crostini
This is one of the easiest Italian-inspired recipes for kids to make. You just need: bread, mozzarella or other cheese, ham or sausages, mushrooms. Put the slices of bread in the oven for a touch of gratin and voila!
20. Couscous
Finally, the couscous. The winter recipe takes meat and vegetables, it is an exquisite children's dish but too complex to do it in a short time. For this reason, we offer you a somewhat more summery recipe that can be carried over to the rest of the year. The semolina is cooked with very little water, and in just two minutes. Then, add a little tuna, some chickpeas (also canned, if you have not boiled them), all the vegetables that you have available already cooked. Voilà, dinner is ready.
Obviously, all of these quick kid recipes won't be complete without a nutritious dessert. It is convenient that you always add a piece of fruit at the end.