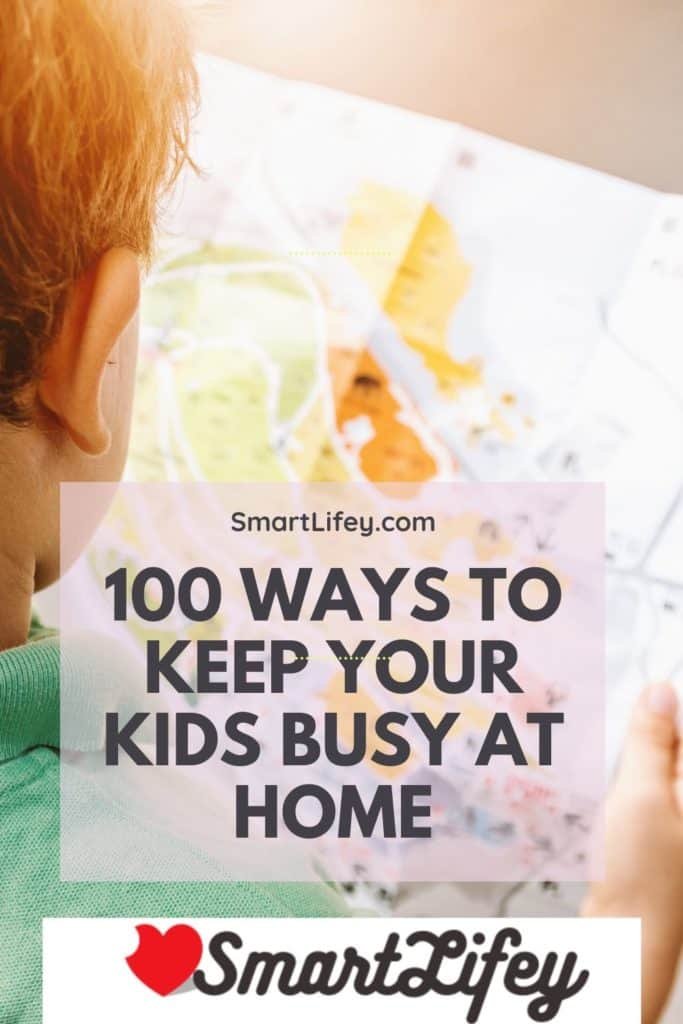 Are you facing an afternoon at home with the children and you're running out of ideas? Don't worry, we have selected 101 fun games for you at home for you. You will not need special materials, you can organize the fun of the little ones without complications. You will only need a little good humor, imagination and, in any case, the everyday objects that can be found in any house with children. A little glue, coloring pencils, paper, scissors … and voila!
In the following article, you will find the best selection of fun games for kids at home . There are different types: dynamic, quiet, memory, or skill. Its common feature is that these are games for which neither large spaces nor special materials are necessary. Rather, it is about reinventing the use of everyday objects, recycling and transforming what we find in any conventional house.
Fun games for kids at home, our favorites
Let's start with our list of fun games for kids at home. Get ready, because there is one for everyone!
1. Play homemade bowling with empty milk bottles and tennis balls.
2. Make origami with colored paper.
3. Plant a lentil or other legume in wet cotton.
4. Create objects and characters making crafts for children with egg cups .
5. Inventing a story together, each time it will be up to one to continue the story where the other left it.
6. The English Hideout, a great classic of fun games for kids at home, as it is also suitable for indoor spaces.
7.Assemble a mini golf course in the living room.
8. Build a dreamcatcher with paper plates, ribbons, small bells and everything you find to decorate.
9. Make a funny face contest.
10. Walk on a cable, but on the floor of the corridor: the cable can be done with red or silver insulating tape. To increase the difficulty, you can ask the children to walk with their eyes closed or carry a tray with glasses of water.
11. Play basking with ping pong balls in containers of various sizes, from the largest (easiest) to the smallest (most difficult).
12. Build a castle with the help of books, tomato boxes, or shoe boxes.
13. Play the hangman game (this is a recommended activity from 7 years).
14. Make a pan flute with straws
15. Make a delicious fruit smoothie and let them make bubbles with the straw.
16. Mix dish soap and water in a pot to make giant soap bubbles. You can take a look at some internet tutorial to see how to do it.
17. Do a pillow fight.
18. Bring a story to life by speaking made-up languages ​​and making a thousand different voices.
19. Play to guess the sounds (here you need a little preparation for the recordings): the sound of a train, the horn of a car, the church bells …
20. Have a picnic in the dining room and eat sitting on the floor on a plaid blanket.
21. Teach your kids a game you played when you were a kid.
22. Host a real doll and stuffed animal party, including drinks, music and gifts.
23. Set up a face painting workshop at home.
24. Ask the children to teach you their favorite game and pretend you don't understand it so they can explain it to you.
25. Prepare popcorn in a pan with a glass lid, to see them sizzle. Afterwards, take the popcorn watching a movie with the blinds down like in the cinema.
26. Draw and color together lying on the ground.
27. Cooking a fun dish: with colored pasta, mayonnaise, olives and cooked potatoes you can make a fish of a lie.
28. Together choose the best family photos to reveal and create an album.
29. Go out to the portal at night with a flashlight and pretend you are explorers.
30. Play soccer, volleyball or basketball (with soft balls to avoid breaking anything).
31. Play hide and seek at home.
32. Make monster creatures out of clay and then crush them for kids to laugh at.
33. Paint a white T-shirt or old jeans with fabric markers.
34. Do choreographies with the musical themes of the moment.
35. Recycle by making crafts with paper rolls .
36. Decorate the walls of the room with a thousand colorful post-it notes.
37. Create a homemade volcano with modeling paste and erupt with vinegar and baking soda.
38. Remember funny episodes from your childhood and show your children the photos of when you were a child.
39. Together create a list of favorite songs, write it down on paper and then sing them in the car.
40. Take fun pictures with your phone.
41. Make ice lollies with lemonade and any fruit juice.
42. Organize an obstacle course in the living room with cushions, overturned chairs, armchairs …
43. Play spa with massages, scented baths, nail polishes, and creams.
44. Thread necklaces with pasta or make other children's crafts with macaroons .
45. Organize a car wash in the bathroom sink with all the toy cars you have.
46. Build the tallest skyscraper in the world with construction pieces.
47. Make a collage by cutting out photos from magazines.
48. Draw on cardboard and then cut out the image to create a real puzzle later.
49. Make a battery with what you find in the kitchen: pots, lids and wooden spoons
50. Play hot potato with a potato from the pantry (more than four players).
51. Choose a fairy tale and guide the child to play all the characters.
52. With a spoon in the mouth and a ball on it, the children have to try to make a journey without falling.
53. Dress up in old clothes, glasses, anything you find, and then take photos.
54. Create a cabin in the living room with blankets and chairs, step inside to tell ghost stories.
55. Take turns guessing what each one is eating according to the face they put on: vinegar, lemon, tomato sauce, chocolate …
56. Cook cookies and then eat them together.
57. Cut an apple in half and use it as a stamp .
58. You can teach children how to make and knead pizza dough.
59. Create shapes with the dough and then bake them in the oven.
60. Create a circuit for marbles with straws and a shoe box lid.
61. Play tombola with photos: gather several photos of family and friends, distribute them among the children and then ask: who has grandma? Dad?
62. Create greeting cards with glitter, colored waxes, and glue. Decorate them with things you have in the kitchen: pasta, vegetables, salt, etc.
63. Make up stories: start a story, stop and ask the child: what happens then?
64. Create a sensory table with various objects and materials, place the blindfolded child in front of it to guess what they are touching.
65. Turn the home hallway into a jumping track with lines marked on the floor with colored electrical tape.
66. Play What is missing? with everyday objects at home (the child must cover his eyes while you hide something and then he must guess which object has disappeared).
67. Organize a Barbie cruise in the bathtub, with towels and boats (a tupperware is the ideal boat) and give your wrists a good layer of sun protection.
68. Play Mikado or chopsticks with colored pencils.
69. Build plastic cup towers and then throw them away by throwing bottle caps.
70. Improvise a basketball court in a bedroom with socks and a wastebasket as a basket.
71. Play the gesture game to guess songs or movies.
72. Lay a row of small books vertically along the aisle, and then enjoy the domino effect.
73. Build a catapult with spoons, nuts, hazelnuts, or paper balls.
74. Dip an object or toy in a container filled with water, place it in the freezer, and then play archaeologists to dig it up.
75. Make paper garlands.
76. Write anonymous letters with cut out letters from newspapers.
77. Paint with a salad bowl (put a sheet of paper cut in some shape, add washable paints, close the lid, spin and here is the result:
78. Design a Thaumatropes
79. Create a staple bookmark to attach pendants and various objects.
80. Make homemade cream and then eat it or play to paint a big mustache!
81. Write a letter with lemon juice: at first you will see nothing but carefully put the paper on a burning candle!
82. Play cops and thieves.
83. Do a tongue twister tournament, one of the most successful fun games for kids at home.
84. Transform yourself into a mummy with toilet paper.
85. Fill air balloons and release them unopened as if they were flares, the one who takes them first wins.
86. Play classic paper and pencil, games.
87. Make rubber band bracelets to give to friends.
88. Play to extract the colors of the vegetables: the red of the beet, the yellow of the turmeric, the blue of the blueberries, green of the spinach … and then paint with each concoction.
89. Design crazy hairstyles with jelly and washable hair color spray.
90. Play the blind chicken .
91. Create your own herbarium with dried leaves.
92. Paint the shaving foam.
93. Build a puppet theater with a shoe box, old fabrics, and paintings.
94. Create characters for the puppet theater with dolls and ice cream sticks.
95. Play rock, paper or scissors, one of the quintessential fun games for kids at home.
96. Turn the hallway into a spider web:
97. Draw a racing circuit on the mat with the help of electrical tape.
98. Learn how to make Chinese shadows.
99. Play marbles, try to make a special circuit for the best competition.
100. Set up a supermarket at home with everything you have in the kitchen, and use a large calculator as a cash register.
More game tips to avoid boredom at home
Finally, if these 101 fun games for kids at home have not seemed enough, you can take a look at other articles on our blog. We have divided the activities by age:
games for children from 1 to 2 years
activities for children from 3 to 5 years
games for 6 and 7 year olds
games for children from 8 to 10 years old
Do you want to try the Montessori method? Then we recommend this compilation of Montessori educational activities .