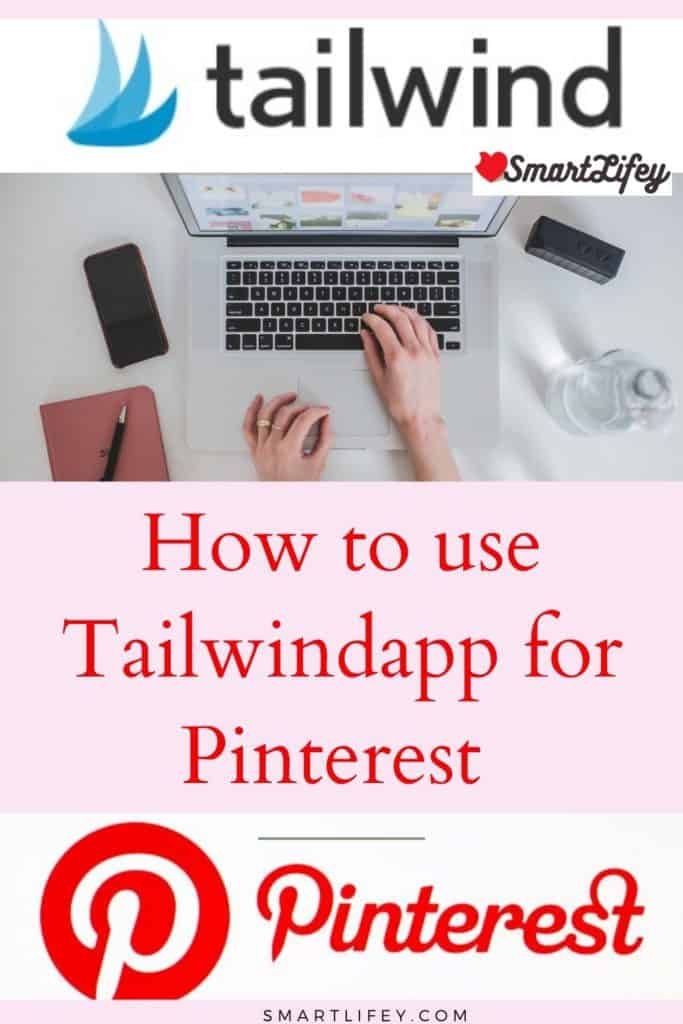 In that process of being a blogger , I have done a lot of research, very valuable research to continue learning and above all to continue growing.
Among all the things I have learned, Tailwind is at the top, I fell in love with his concept and everything he does for you, its creators are geniuses and they do not know how much I appreciate their invention.
Surely they ask themselves and why do you like it so much?
Well I have told you that Pinterest has become my darling, my number one strategy to give visibility to my blog, you can read about it in my post on How to use Pinterest ?
But, Pinterest without Tailwind, is simply unthinkable or at least it is for me now, so much so, that among other things, my investment priority is Tailwind, so important and indispensable has it become for my growth strategy , why? Well, because it gives me back a lot in return:

It allows me to schedule all the content I'm going to post on Pinterest, in less than an hour.
It helps, with its hourly publishing system, that the content of my page is displayed at the right time, driving more traffic to my blog.
Now I want him to give you back a lot too.
How does the Tailwind app work?
What is the Tailwind app?
Tailwind is a tool that works hand in hand with Pinterest (and Instagram) helping you to manage your account, scheduling your content , analyzing the performance of your pins, your boards and the average number of followers you earn daily.
If you are serious about being a digital nomad and adopting Pinterest as your number one tool to give visibility to your content, Tailwind is the answer to your prayers.
You already read my post about 7 tricks to increase the traffic of your blog with Pinterest , so you know that in trick number 6 and 7, I tell you that to achieve that traffic (display and action), you must be active on Pinterest , publishing your content every day and at different times of the day.
Tailwind makes it easier for you to schedule daily, that content that you want to promote in the Pinterest search engine (or in your Instagram profile)
Tailwind works hand in hand with Pinterest and Instagram and what I mean by this is that it is a tool authorized by both platforms , which allows you to schedule the content that will come to light in your profiles, without originating conflicts or you are considered spam.
Advantages of using Tailwind app?
If you are a blogger, you create content on YouTube, you have a sales page , etc; and you're already working to promote your content with Pinterest (which I recommend you are doing 😉 if not, check this post: 11 reasons to use Pinterest now! increases the visibility of your website .)
Tailwind will facilitate your promotional work .
To achieve the visualization of your content on Pinterest you must maintain a constant activity and I do not mean to make a pin once a day, at least you must do 10 pins a day and most importantly those pins must be distributed at different times of the day.
Tailwind manages an intelligent scheduling , where it studies the schedules, in which your pins have had more interaction and allows you to schedule all your pins based on those schedules.
That is, thanks to this tool, you do not have to spend all day on Pinterest , but you can spend less than an hour a day, to make your schedule for a whole month and that's it!
Managing to bring potential subscribers or customers to your website.
In its free trial version, you have the opportunity to schedule up to 100 pins, my recommendation is that those 100 pins are completely from your content.
You can do the content of other users in your niche manually with the Pinterest app. -all this while using the free version-
With the paid version, which I really recommend invest, you have two options:
If you opt for the one month version, you have to schedule up to 400 pins in that month,
With the 1-year version the quantity is unlimited.
Thanks to this tool, you can save a lot of time and you will be able to observe the progress of your Pinterest account and most importantly: how the traffic to your page increases little by little.
Remember: Pinterest gives results in the medium and long term, so we must be constant and patient, if we really want to see those results.
It is fair to mention that Pinterest for a few months, has a pin scheduler within the tool , which allows you to publish content at different times.
The advantage of this Pinterest scheduler is that it is free , it is included in the platform.
Its downside is that the pin scheduling process takes longer, it is pin by pin, board by board, unlike Tailwind which allows you to schedule Pin on different boards with a single click.
How to Use Tailwind : step by step guide
Sign up for Tailwind.
If you already have your account with Pinterest, you only have to enter the Tailwind page and enter with your Pinterest data, this allows a synchronization of the two pages and authorizes Tailwind to have access to your boards, pins, followers, etc.
You subscribe for free, you should not put any bank card information or anything like that, you will be in trial mode with this subscription, you can start by clicking here
On Pinterest you must authorize the application to complete the registration, for this you must enter the settings of your account on Pinterest and go to the apps option. And click on Allow access to Tailwind app
Tailwind Dashboard-Weekly Summary :
The Tailwind inbox shows you how the behavior of your Pinterest account has been.
It gives you information about the number of repins of your content weekly, in addition, it analyzes the changes in your account compared to the previous week.
It also gives you information about the boards with the most interaction and the increase in followers in that week, vital information, which allows you to know which board you should publish your content first.
Thanks to all this information , you can get to know how the content you publish is performing, in order to maintain or improve your marketing strategy with Pinterest.
Start Scheduling your pins in Tailwind. What you should know.
Here are various options in the Pin Publishing Section:
Drafts of Pins
Here you download the content you want to publish.
In the following image, you can see the components when you start scheduling your content:
Your weekly schedule of your pins
Tailwind manages a suggested schedule for your pins, this suggestion is made by the study that the tool performs of the behavior of your pins daily.
That is, it shows you the hours of the day when your pins normally have the most interaction and display , if you schedule a pin at those times, they are more likely to be saved by users.
Scheduled Pin.
The pins already ready in the agenda, so that they are automatically published, look like this.
The Published pins.
You find all the pins already published to boards.
Pins from Instagram.
A new option, so that your Instagram images and your pins are integrated , my recommendation, create an Instagram board and pin your Instagram photos that are relevant to the theme of your business and get followers to the social network from there .
You can add Firefox, Chrome, Opera etc to your browser ; Tailwind extension, to schedule directly from the web anything interesting you find on the subject of your business.
Or you can even schedule directly from Pinterest with the Tailwind extension 😉
Strategies to facilitate pin scheduling in Tailwind.
1. Use the suggested times.
The best way to publish your content is in the hours where they can have the most visualization, therefore there is a greater probability that your pin will be saved and shared.
2. Schedule content from 10 to 50 pins per day.
This depends a lot on the amount of content you have on your website, but posting an average of 10 to 50 pins over the course of the day gives your Pinterest profile visibility.
Do the necessary tests, see what works for you and what doesn't.
3. Use the dashboard list option
This is a great option to segment the scheduling of your pins, you can divide it by themes.
So when you want to schedule a pin only to the group boards – for example – you select the option from your list of boards and they will all be loaded to be published.
4. Use the hours and days intervals option to publish with Tailwind app
It is essential that the pin that you are going to post on many boards, you do it managing intervals of days and times.
With Tailwind you can do it, you just have to, select all the boards where you want that pin to be published, then select the "Interval" option
You will observe the following options.
Date of publication of the first pin
Intervals of days between the publication of each pin
Suggested posting times for each pin.
In the image you can visualize them a little.
The Tailwind Tribes : Why are they important?
Tailwind tribes work a bit like Pinterest groups or group boards.
It is a way to make it easier for bloggers (who are always super busy) to find quality content to pin.
A good way to be part of a community, where you can find optimal content for your boards, that talk about the topic of your business.
But above all, it is a good place where you can share your content and these are repined on Pinterest.
The tribes that you join are supposed to be made up of beads that handle your theme and that their pins have the necessary characteristics to be a quality pin.
In 7 tricks to succeed with Pinterest you can know what makes a perfect pin.
That is, that pin that you share is a valuable pin, Pinterest as a tool, will give that pin a higher priority than a pin that does not meet those characteristics.
It is a win win, because the idea of ​​the tribes is to collaborate and grow in your niche.
The pin of the content that you keep in the Tailwind Tribes, will be, possibly scheduled by another member of the tribe and will appear on their Pinterest profile, that is, greater visibility for your pin and consequently for your blog.
Do you want to be part of this tool and make the job of scheduling your content easier? From this link you can do it and try it for free until you schedule 100 pins and you also have a $ 15 coupon for you to use in your first month 😉