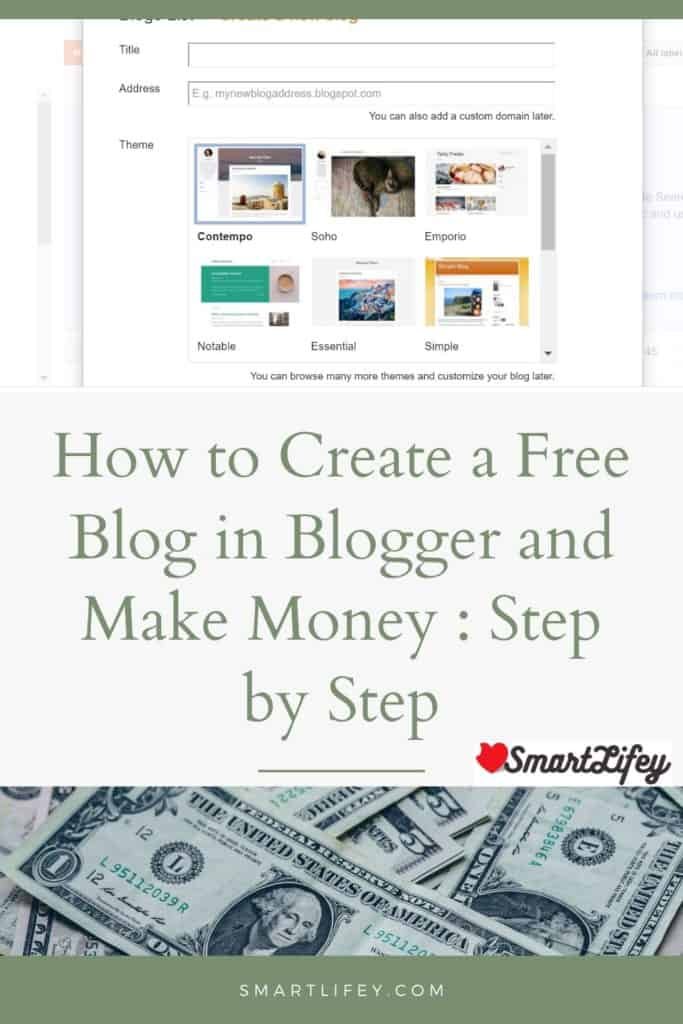 Let's look at the option of hosting a free blog on Blogger. Discard it if you want to have the possibility of creating a serious medium-term project, but if you are only looking for a space where you can write for yourself on the Internet then it is a suitable choice.
1. Create your blogger account
First of all, go to https://www.blogger.com/ and click on Create your blog .
It will ask you to log in to your Gmail account. You only have to enter your data and agree to accept the terms of service and Google's security policy.
Then it will ask you if you want to create a Google + profile or create a blogger-only profile. The first one will show your posts with the name of your Gmail account and allow readers to send you messages.
If you prefer to be completely anonymous and create an alias just for the blog, choose the second option.
Save your profile and on the next screen click Continue in Blogger to bring up the option to create a blog.
2. Create your blog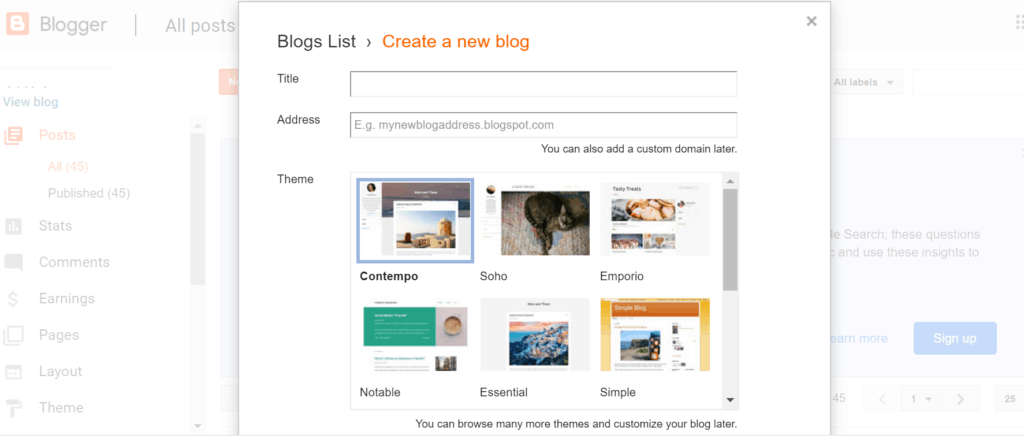 The next step is to put a title to your blog, and the domain name that will be xyz .blogspot.com Here you can also choose the theme (design) of your blog.
Click Create blog and you're done!
It will ask you if you want a domain name. That allows you to remove blogspot.com from the end, which is more professional, but it will cost you between 12 and 20 dollars a year.
3. Set options
Then you will arrive at your Blogger desktop. You can start writing your first article now by simply clicking on New Entry , but before it is better to configure a series of options that you will find in the left sidebar.
In Statistics you can see the traffic and visits of your blog.
In the Comments option is where you can approve the comments left by the readers and reply to them.
In Income you can sign up for Google Adsense to display advertising on your blog and monetize it. However, your blog must meet the requirements to access this program, such as being older.
In Campaigns you can sign up for Google Adwords to show ads for your blog in the Google search engine.
In Pages you can create and publish pages on your blog. Unlike the Posts , the Pages do not indicate the date on which they were created or appear within the list of Blog Posts , so they are usually used to put the Contact or About me sections , for example.
In Design you can finish adjusting the visual settings of your blog. You will see an outline of a blog entry, with several spaces where you can activate or deactivate Widgets to display the title of your blog, an email subscription form, a search box or other features.
In Tema you can choose a design template for your blog among more than 30 options.
In Settings you will find several options that you should modify:
Let's start with the basics section :
The first is the Description of your blog. This is what will appear behind the title of your blog when search engines like Google show your blog, so it describes very briefly (in about 5 words) the theme of your blog.
Where it says Redirect to HTTPS , make sure to select Yes so that your blog always shows up as safe, regardless of how your readers found it.
In Posts, comments and shared elements you can choose whether everyone can comment or only registered users.
I recommend that you select Any and the Always option in Comment Moderation . This way you can review the comments before they appear, since sometimes spam or some unsuitable ones can sneak in .
The Email and Language and format options are quite basic, just check that your email and language are correct.
In Search Engine Preferences , enable the description for searches . This is the text that will appear below your blog title when search engines display it, so be sure to put one or two phrases that motivate people to click.
Here you can also customize the message that will appear when someone reaches a page not found if you think necessary.
In the Other option you can make backup copies of your blog. The rest of the options are not relevant for now.
Finally, in User Settings you can choose to continue posting under your Google + profile or create a unique profile for this blog.
4. Write your first entry
We will publish your first entry. Just go to New Post and click New Entry .

Now the text editor will open where you can put a title to your first entry, write the content and add images or videos.

In the upper bar you can choose the font, text size, insert images, add links or create lists, among other options.
On the right you will find a vertical bar with the input settings:
In Tags you can assign a category to your posts. For example, you could put the label "Economy" to all who talk about economics, and "Health" to those who talk about health. This makes it easy for readers to access all your content on a specific topic.
In Schedule you can select that the entry is automatically published at the time you decide.
In Permanent link you can edit the web address (URL) of your entry, instead of using the one that Blogger will assign you by default, which is the title. Do it if it is too long and you want to simplify it.
The Location option is used to geolocate your content, but it should not be used unless it is the blog of a local business.
In Search description you can put the text you want to be shown in the search engines under the title of your entry. Remember that it must be attractive and not too long!
Finally, in Comments you can decide if you allow readers to comment on this article or not. Do not change the other options.
5. Post your entry
Once you have written your entry, you can save it as a draft with the Save and preview option . If everything seems fine to you, publish it by clicking the Publish option . Done!
6. Monetize Your Blogger Free Blog
Free blogger blog can be Monitized by adsense.
Signup for Adsense to show ads on your Blogger Website.
Once Adsense is approved, ads will start showing on your Blogger Blog. You can receive payments when $100 are earned on adsense.