17 SEO Myths that you Should Never Follow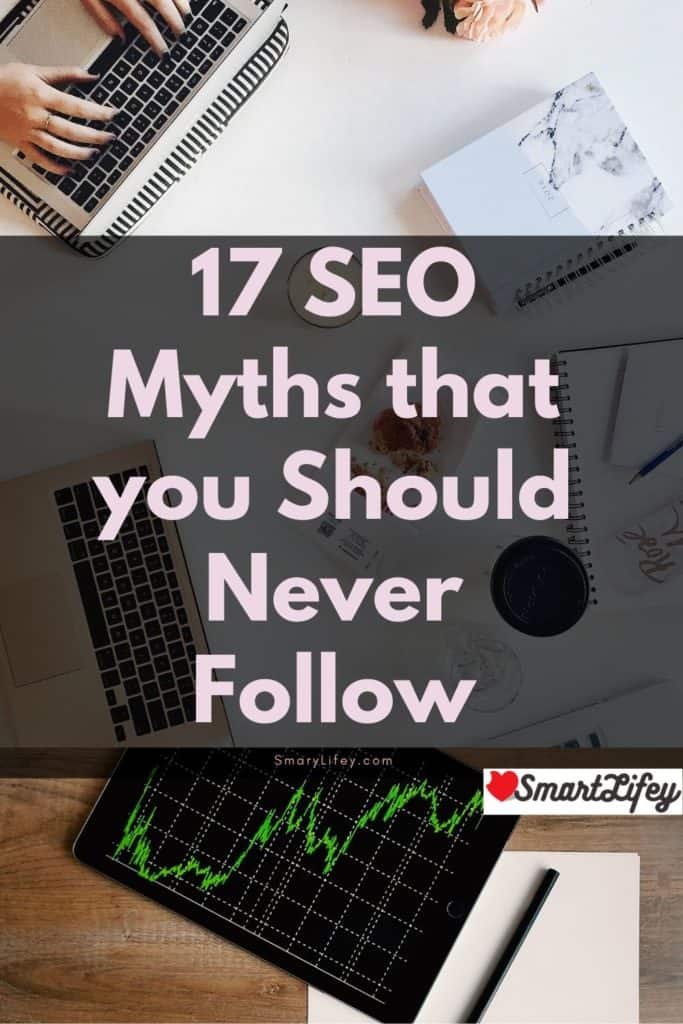 The latest updates to Google's algorithms clearly point out that Google rewards and ranks websites based on the quality of their content. If we already know this, well then we will talk about SEO Myths that say which are the best strategies to position in the first places of Google.
That's why creative copywriters and SEO professionals focus on changing link building, design, and visual thinking. Which its objective is to hook the user and the search engines with a captivating flow of content. It has to be interesting to be interactive with the readers!
But hey, before we deviate from the subject. I mentioned these words because there is relatively irrelevant and misleading information that thinks SEO is quick and easy. Well, collecting some questions and reactions from users and professionals are made when starting an SEO campaign.
So I leave you some SEO Myths that are talked about and speculated about SEO and that it really is not.
MYTH 1: Being on the first page of SERPs. So is SEO work done?
SEO is never done! As I mentioned before, SEO is evolving and will not be the same in 6 months, let alone 6 weeks! There will constantly be modifications that will help you rank higher your rankings. There is no set time to complete an SEO campaign or strategy. That depends on each company or business.
MYTH 2: Keyword research and analysis doesn't matter
NERD. Keywords remain just as important: Google did not remove the importance of keywords in any recent SEO updates . So be careful not to do your keyword research during your SEO campaign .
MYTH 3: Guest Post publication is dead
Well no, a relevant and useful post for a blogger in your niche can drive users to your site. Guest Post is still one of the most effective ways to create links and relationships. Bonus Points is getting a link back from your website! Help them both.
MYTH 4: The best domains for link building are .gov & .edu
Typically .gov and .edu websites have high domain authority, however there are quite a few .com and other domains that have equal authority. As mentioned above, content is the key and if your goal is to link to a .gov website with relevant information or to a .com with top notch information where you always choose a site that has the best content and good authority!
MYTH 5: A dedicated IP helps increase Google ranking
No, the ratings are not affected by having a dedicated IP. Everything is based on agreement as Google takes it!
MYTH 6: Links help you position
Well yes, the links help. But what really helps is having inbound links to your website. As I mentioned earlier, having links to a website and having them linked back helps infinitely more than just a one-way street.
MYTH 7: Any inbound link is good for SEO
Just keep in mind that there are bad and good links. But there are also natural, high-quality links from high-authority websites. Example, think about buying a meat, you would not want to buy it from a cheap and unknown store, right? Just as you know the difference between cheap store steak and meat from a well-known, commercial store, it will not be of the same taste and quality, as Google's coupling algorithm knows the difference. If you get caught and bad links, which will hurt your rankings, you will notice.
MYTH 8: Your website doesn't need a blog
Haha .. Don't make me laugh .. Of course I do. No matter what industry you are in, there will always be something to talk about. As I mentioned earlier, adding content regularly will help your website to rank and rank higher and higher in search engines.
MYTH 9: Internal links have nothing to do with SEO
Yes, internal links help users to navigate your website. Without these links, users will likely spend little or no time on your site, and that will affect their ranking for a high bounce rate.
MYTH 10: Your website doesn't need to be mobile responsive
But what? Let me tell you that most businesses and companies are choosing to update their website to a mobile version, because they know what their problems would be that would harm their brand and quality of service they offer. Keep in mind that the mobile version is the # 1 platform that people are interacting with and visiting websites! Users often quit if the website is unusable on mobile devices. Not only that, but Google rewards sites that are mobile friendly . It is recommended to ensure that your website looks good regardless of different device.
MYTH 11: SEO can be automated
Hmm … but how? SEO requires human input. If it were that easy just by clicking, everyone would have an impeccable ranking in the results. SEO bots make your website look like spam. Be very careful in what and where you want to go with these automations that several companies offer.
Well, these are some myths that we need to keep in mind when implementing or starting an SEO campaign.
But before closing with this article, I also leave you with some myths that are speculated about SEO in an e-Commerce or online store.
Let's keep going….
The most common SEO myths in e-Commerce
These SEO myths that I am going to talk about are some of these errors that not only interrupt the customer experience, but can also harm the ranking of your site or page in general.
Even worse these mistakes remain and spread like the most common SEO myths with the promise of improving your website . But fear not! Many of these errors are easily fixed once you know about them. So let's take a look at some of these myths and the best way to quickly tackle them.
MYTH 12: Delete the product pages out of stock
When you have an out of stock product, it is difficult to know what is the best thing to do with the page. Should I leave the page as is? Redirect the page somewhere? Delete the page entirely? Before making any decisions, it is probably best to recognize if the product is permanently out of stock, or just temporarily. If this is the latter, it is probably best to leave the page as is. But, if the product will never be restocked, or at least not in the foreseeable future, the best solution is to redirect the page.
Using a 301 redirect allows you to retain all the authority of the links built to that page, you don't have to worry about losing anything. The rankings and authority of the previous page will be transferred to the new one. Most importantly, customers will be less likely to bounce if you use a 301 redirect to your advantage, redirecting them somewhere relevant.
This means that you should not redirect every page back to your home page, this will increase the probability that people will bounce off the site. Instead, redirect them to a similar product or an applicable product category page. The more similar the product page or product category you redirect to, the better. The client will be happy, in addition to the rankings and the authority of the page will continue to be for a relevant product.
MYTH 13: each variation of a product needs its own page
Some people may suggest that you should have a separate product page for each color of an item. Don't listen to those people. This creates a better shopping experience for your customers and makes it easier for them to see what is available on your site. Always remember that you want to make customer time on your site as easy as possible to avoid abandonment.
Many times the same metadata and product descriptions are used in multiple colors of the same product. Having a page for all variations of a product can also prevent duplicate metadata or duplicate content issues.
BONUS: You will also want to keep your most important SEO product pages as close to the main page as possible. This means that you will want to shorten the click path to no more than a couple of clicks. Doing so will ensure that your SEO is not buried in your site and it will be easier for users and robots alike to find it quickly.
MYTH 14: You only need a description of each product or service
Product descriptions are the most important content on your product pages and should not be overlooked. A common problem we see with new customers is that they are using the same product description for every retailer and every website that sells their products, which can cause duplicate content issues.
If a search engine, like Google, sees what they consider duplicate content like other sites, their organic search ranking will suffer. That is why adding unique product descriptions to each site is crucial. If you must use the manufacturer's product description, try adjusting the text slightly and use synonyms to create some changes.
Keep product descriptions short and concise, using bullet points when possible. This is useful for customers and search engine spiders who are viewing your site. When creating product descriptions, don't forget who your audience is.
Continue writing for them even if you are only writing copy for one product page. And finally, use the product description to answer potential questions customers may have before buying. For example, if you are selling a jacket that is waterproof be sure to put that in the description.
MYTH 15: Not all e-commerce pages need content
Even if you are running an ecommerce site, it is important to have relevant and useful content on its pages. It is not only useful for consumers, but it is vital for SEO rankings. A commonly overlooked place for content is the product category pages. These pages still need to contain content or Google may penalize you for fine content pages.
If you liked the article, do not hesitate to subscribe and leave your comments or opinions about a myth you have heard, so the community can help and resolve any questions.